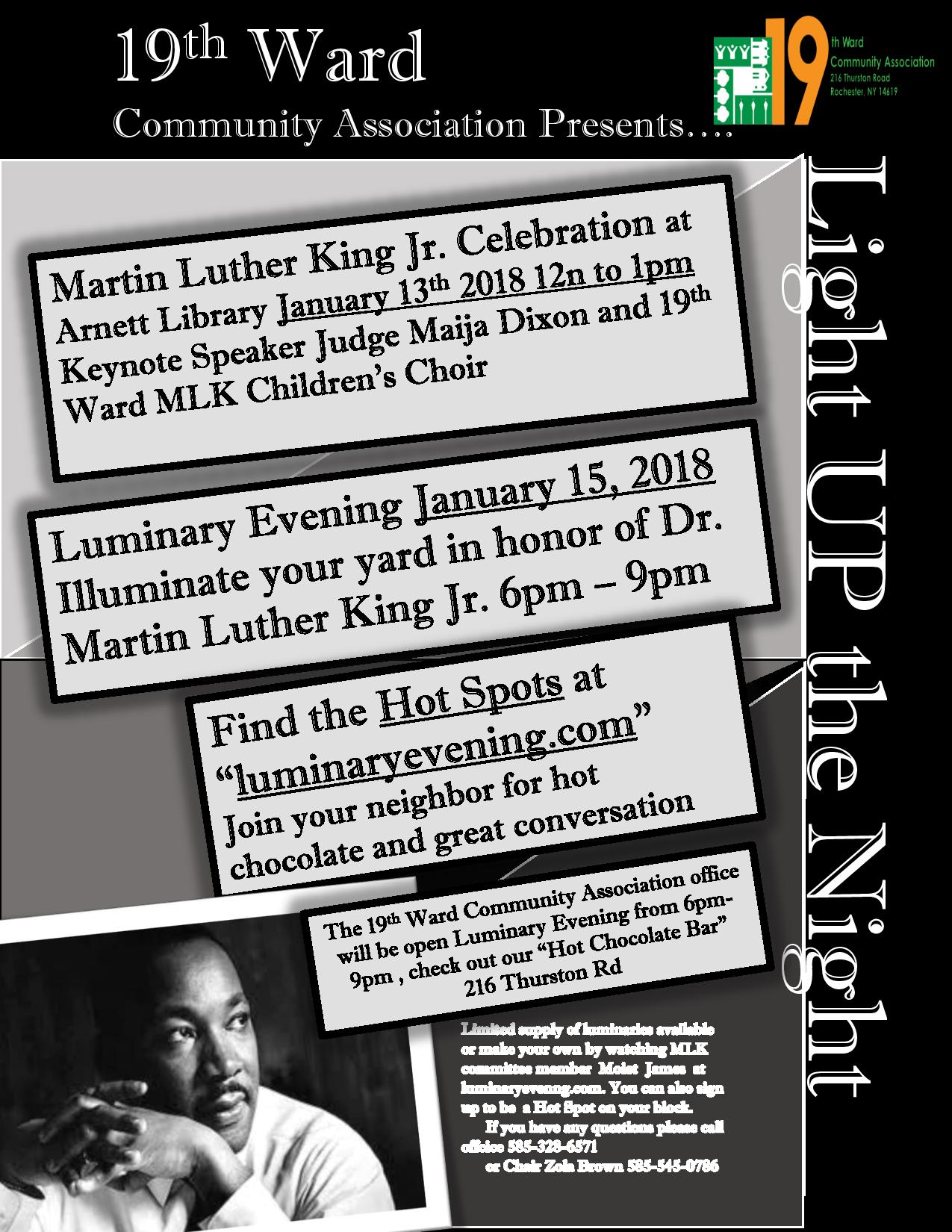 The 19th Ward Community Association (19WCA) Martin Luther King Jr. (MLK) Luminary Night which falls on the nationally recognized MLK Holiday; as the community continues its efforts in bringing residents together and maintaining the spirit of love inspired by MLK and leaders of our community.
This year the neighborhood will celebrate the 13th Annual 19WCA Luminary Evening event by "lighting up the neighborhood" with luminaries, lanterns and flashlights to express our solidarity with the values of Martin Luther King's Beloved Community and his important campaign against racism and poverty.
In these challenging times, we want to focus on the importance of coming together as a neighborhood community to celebrate our resilience and to join to participate and support each other in the on-going work of not only organizing but creating a community that recognizes the values of the Beloved Community of the 19th Ward.
19WCA will kick -off the MLK events with a celebration at the Arnett Library featuring performances from the 19th Ward MLK Children's Choir and guest keynote speaker Judge Maija Dixon.
Celebration- Location the Arnett Library
Date: January 13, 2018
Time: 12:00 p.m. to 1:00 p.m.
A night to luminate the "Beloved Community" residence is encouraged to fellowship and join in the celebration by visiting one of the various hot spots throughout the 19th Ward which will begin MLK evening.
MLK Luminary Night
Location- Various locations throughout the 19th Ward neighborhood*
Date: Monday, January 15th, 2018 (MLK Day)
Time: 6 p.m. – 9 p.m.
Hot Spot Locations for Luminary Night- visit: www.luminaryevening.com
719 S. Plymouth Avenue
449 Chili Avenue
215 Melrose Street
216 Thurston Rd
302 Aberdeen Street
74 Colgate Street
929 S. Plymouth Avenue
17 Fitzhugh Street
*Luminary hot spot locations will be posted on luminaryevening.com and there you can get more information on the 19th Ward Luminary Event 2018. See attachments
About the 19th Ward
The 19th Ward Community Association is a group of neighbors striving to preserve the residential character of the neighborhood. The Association fosters and encourages mutual-cooperation in a multi-cultural community.
We are a member-supported, volunteer-run, not-for-profit organization. Our mission is "To create a conscious multi-racial community where individual and cultural differences are celebrated and where people share a sense of community."