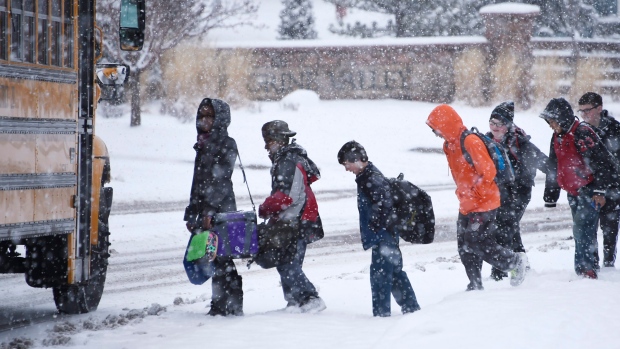 Goal is 97% attendance for students in Pre-K to Grade 3
Causewave Community Partners and the Rochester City School District announced today a $30,000 grant from the ESL Charitable Foundation in support of its "Cold Can't Stop Us" winter attendance challenge.
Winter in Rochester can make it harder than usual for parents and caregivers to get their children to school every day.
Each year, attendance declines significantly during the winter months, with students missing the most school in February, March, and April.
The winter challenge is part of Every Minute in School Matters community and District campaign to help families improve school attendance, with a focus on students in grades Pre-K to 3, who have traditionally had high rates of chronic absenteeism.
The "Cold Can't Stop Us" Winter Attendance Challenge targets a districtwide goal of 97% attendance, which means students can miss no more than two days of school between January 29 and April 20, 2018.
Weekly incentive programs, fun activities, and some surprises will be promoted throughout the campaign to encourage school attendance every day.
At the end of the challenge, all students in grades Pre-K through 3 who meet the goal will be eligible to win one of two $500 gift cards.
Additionally, Schools 5, 8, 9, 17, 19, 20, 41, 44, 45, and 52 have received funding to implement the challenge in their buildings. The Strong National Museum of Play will award a family pass to every student in Pre-K through 3rd grade who achieves the goal at these ten schools.
"The ESL Charitable Foundation is pleased, once again, to support the Rochester City School District and Causewave Community Partners, in the Cold Can't Stop Us campaign," said Maureen Wolfe, ESL Charitable Foundation Board Member, and ESL Federal Credit Union Senior Vice President/Director of Human Resources and Community Relations. "Winter presents special challenges to young school age children, and their parents. We know that attendance is a critical factor for student success. Evidence shows that dramatic drops in attendance during winter months adversely affect students' ability to succeed in school. The Foundation supports this campaign because it directly aligns with ROC the Future's community-wide strategy for education success, and because it supports the partnership between RCSD and Causewave to deliver positive results for our community's children."
"We are thankful to our community partners, especially the ESL Charitable Foundation for providing a grant to support the implementation of this initiative, to The Strong for its generous donation, and to the many community partners who are helping District students and families meet the attendance goal," said Todd Butler, president & CEO, Causewave Community Partners.
"As temperatures drop and snow falls, we see a rise in the number of students who miss school. Many become chronically absent, which decreases opportunities to learn," said Superintendent Barbara Deane-Williams. "The Rochester City School District is appreciative of the continued support and generous contributions from the ESL Charitable Foundation and The Strong National Museum of Play, which allow us to recognize the efforts of parents and students who come to school each day despite winter weather obstacles."
"Improving school attendance is a community-wide endeavor, and The Strong is proud to work with Causewave Community Partners and the Rochester City School District on the Cold Can't Stop Us Winter Attendance Challenge," said Suzanne Seldes, executive vice president and chief marketing officer. "The museum recognizes that through support of valuable programs like this, it can help make Rochester a better place to work, play, and live."
Families in need of support in getting their child to school every day can contact their school's parent liaison or dial 2-1-1.