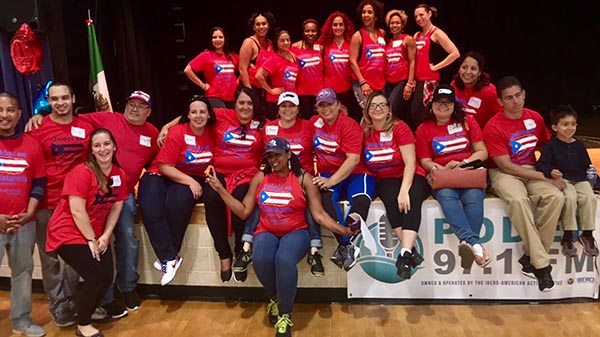 BY LEAH SHAW
On Tuesday Sept. 19th, minutes after Hurricane Maria hit Puerto Rico, Irene Sanchez quickly typed up a message to the Facebook group, she had started, "Puertoriquenas Unidas a la Distancia", or 'Puerto Ricans United Through the Distance.'
Sanchez created the page in 2015 to keep Puerto Ricans in Rochester, informed about the struggling economy of the island.
The day of the hurricane, she used the page as a tool to reach the community and called a meeting on Friday Sept. 22, just 3 days after the hurricane hit. The goal of the meeting: how can they help the situation in Puerto Rico?
"I was one of them that responded," said Delvis Yashira Flores, of Rochester, who is a board member and key organizer of 'Puerto Ricans United Through the Distance.' "About 30 people showed up that day. And these are people that have never met each other. We just came with the intention to help."
The urgency to help in any way possible was tangible in the meeting that day, says Flores, who was born in Guyana, P.R., but moved to Rochester as a child.
"You don't have to be born there to feel the anxiety and the pain and the suffering," she said. "Many of us here have some type of connection to the island. Everyone feels, the same pain."
In just eight days, volunteers pooled their resources and in collaboration with Sanchez and Rochester's local Zumba community, put together a 'Zumbathon' event to raise funds for hurricane victims.
Since the Oct. 1st event, a total of $8,640 has been raised—$7,000 of it towards United for Puerto Rico, a relief initiative started by Beatriz Rosselló, the First lady of Puerto Rico.
"It was just amazing to see how unfortunately, we came together because of a crisis, but the outcome has been, how people respond in a time of need?" Sanchez said. "That speaks volumes about the Rochester community, not just Puerto Rico."
Flores knows firsthand, the struggle of transitioning to Rochester. As a child, not understanding English was a big barrier for herself and her parents. She can't imagine, the experience for those being forced to leave home to escape the crisis.
Presently, the group's goal is to pair up with Rochester organizations, including government or non-profit agencies, to serve as a point of reference. Their process will pre-screen individuals and families coming from Puerto Rico to find their needs and based on that information, send them to agencies that can help. The goal? Make the transition to a new normal less traumatic and smoother.
"We want to be able to be the go-to person, where they can send them to us, and we can refer them to different agencies in the community that can provide the immediate need for these families," said Flores. For,'Puerto Ricans United Through the Distance,' that includes helping them find shelter, clothing, and food. The group is in process of putting together food pantries.
Right now, the group has six drop-off locations, from members who have contributed storage space and donation areas. They will continue to hold fundraising events with a sense of urgency.
There is a strength within the community, says Flores, and they are doing their part in Rochester, to be strong for those still in crisis on the island.
"Not knowing, if my grandparents were alive, if my family was alive," said Flores. "That week and a half that I didn't have any contact—I was sick to my stomach. I couldn't think. I couldn't work in peace." For more information or to get involved contact Puertorriqueños Unidos en la Distancia at
[email protected]