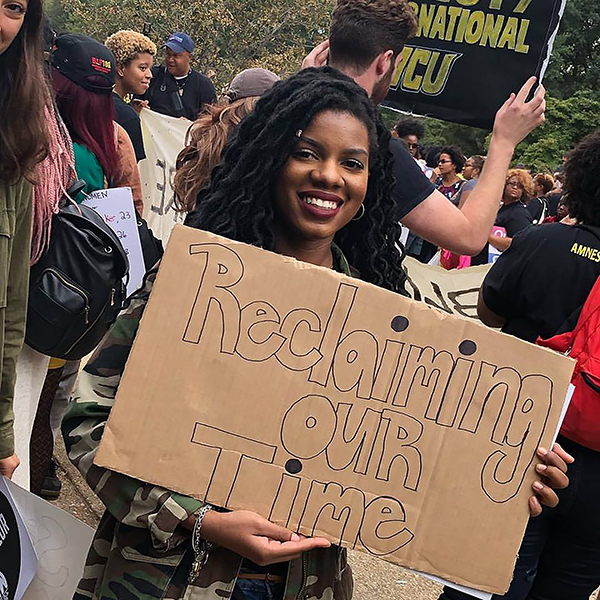 BY LEAH SHAW
On Saturday Sept. 30th, both Tonya Noel Stevens and Kristen Walker of Rochester, joined thousands of women from across the country, at the March for Black Women in Washington, D.C.
The event was organized by the Black Women's Blueprint.
The women were joined by six others, including two Rochester high school students.
Stevens and Walker suggest, they represented themselves, but by default they also represent Rochester's own black femme community.
Together, they're the founding members and lead organizers of Flower City Noire Collective (FCNC)—a local body aiming to reimagine the world for black girls and women in Rochester.
Stevens, who has experience as an activist and Walker, with a background as an educator, agreed that Rochester was missing a place for women like themselves.
The dynamic duo has been to Flint, Michigan twice to network and contribute aid, and attended community healing village, Harriet's Apothecary events in Brooklyn, NY.
"We want to transfer the vibe from other places to here," Stevens said.
In a world, where other grassroots projects have made their voices heard, FCNC is creating a space strictly for black femme voices.
"We have so many shared struggles," Stevens points out.
Weather permitting, FCNC primarily operates out of Causing Effects Garden, an urban flower and produce community garden that Stevens and Walker started in 2014. Throughout the year, they run programming to bring black women together.
In June, they hosted an herb class and journaling workshop. A month later, they held a black-owned business pop-up at Causing Effects, in the practice of Kwanzaa principle Ujamaa.
October and November highlights include, a spot on Soulstainable Living Radio Show at WAYO 104.3 FM, as well as attendance at the 2017 Black Urban Gardeners & Farmers (BUGS) National Conference hosted by Black Urban Growers in Atlanta, GA.
Throughout these gatherings, they aim to build an open and honest community.
"Making it a safe space—a truly safe space is a priority," Walker said.
Using the energy from the March for Black Women, Walker wants to continue to share what's happening for black women in other cities, with Rochester's black femmes.
"I got affirmation for the work that we're doing," she said. "It's an overlooked target market, but we're here."
For more information and to see how you can get involved, contact: Flower City Noire Collective at
[email protected]
.