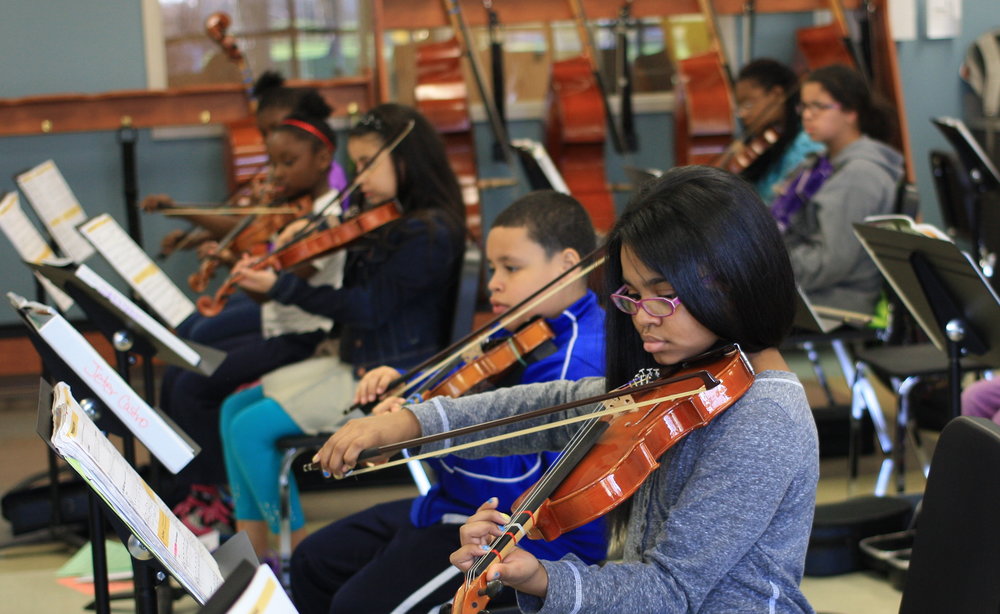 ROCmusic, a collaborative and innovative arts-outreach program that engages children and their families in the experience of making and appreciating classical music, has hired Dr. Armand Hall as its new Director, as of September 10.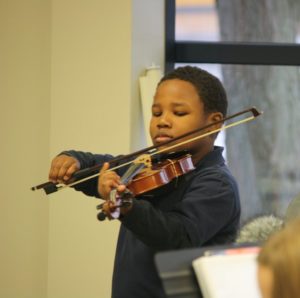 Dr. Hall comes to ROCmusic from the University of Memphis, where he was Associate Director of Bands and Coordinator of Instrumental Music Education. Dr. Hall has taught, adjudicated, and been a clinician at the middle school and high school levels, in addition to collegiate teaching, and worked as a teaching artist in El Sistema-inspired community music programs around the country. He earned Bachelor's and Master's degrees from the University of Michigan, and a Doctorate of Musical Arts in Wind Conducting from Michigan State University.
"I am ecstatic to be selected to lead the ROCmusic program, a significant conduit between our community and our culturally-rich city," shares Dr. Hall. "The institutional support for our program is unparalleled, which speaks volumes about our community partners. I look forward to strengthing and increasing opportunities and access to music for Rochester students and their families. Our team will continue to build a program that represents the city of Rochester; one of which the community is proud."
ROCmusic is a partnership between The Hochstein School, Eastman School of Music (University of Rochester), Eastman Community Music School, Gateways Music Festival, City of Rochester, Rochester Philharmonic Orchestra, and the Rochester City School District.
Rochester Mayor Lovely A. Warren comments, "ROCmusic is one of the most unique programs available to children residing in the City of Rochester. To have Dr. Hall at the helm of this incredible program means that not only will so many of our children continue to receive impeccable classical music education, tuition free, but that the program will continue to grow and thrive. The impact that ROCmusic has on our community's youth helps bring us one step closer to achieving our goal of creating safer, more vibrant neighborhoods and better educational opportunities for our students, which will ultimately lead to the creation of more jobs and an improved quality of life in our city."
"Dr. Hall brings wonderful experience as a music educator, conductor, and passionate advocate for El Sistema-inspired programs across the country," adds Dr. Margaret Quackenbush, President and Excecutive Director, The Hochstein School. "As the next leader of the ROCmusic program, I'm confident that he'll strengthen and build our program to serve even more of Rochester's children and youth."
Curtis Long, President and CEO of Rochester Philharmonic Orchestra, notes, "Dr. Hall's background and experience make him the ideal person to take ROCmusic and its exceptional collaborative model to the next level. This is a program which is already making a positive impact on the lives of many Rochester children and families and, under Dr. Hall, is going to do much, much more."
Jamal Rossi, Joan and Martin Messinger Dean of the Eastman School of Music, says, "The appointment of Dr. Hall signals the start of an exciting new chapter for ROCmusic. His extensive experience as a public school teacher, a university professor, as a presenter and panelist at national conferences, and as a recognized music leader will enable ROCmusic to grow in powerful ways. The commitment he has demonstrated in the past to his students and to the communities where he taught and lived bodes very well for the students of ROCmusic and their families."
Established in 2012, ROCmusic recently expanded to all four quadrants of Rochester, giving every student a better opportunity to receive musical instruction. ROCmusic is looking forward, constantly working to better serve the community, and growing to serve more and more people in the city of Rochester.
About ROCmusic
ROCmusic is an innovative arts-outreach program that engages children and their families in the experience of making and appreciating classical music, offers tuition-free classical music instruction and instrument lessons to students in grades 1-12 who reside in the city of Rochester, NY.
The program is designed to instill a love of learning, responsibility, respect, and academic success, ultimately positively affecting social change in our students and the communities surrounding them. Every gift made to the ROCmusic fund is a deductible donation that directly benefits student scholarships and the organization's operational cost.
No previous musical experience or training is required and there is no charge for instruments, participation, or instruction. For more information please visit: https://www.esm.rochester.edu/rocmusic/