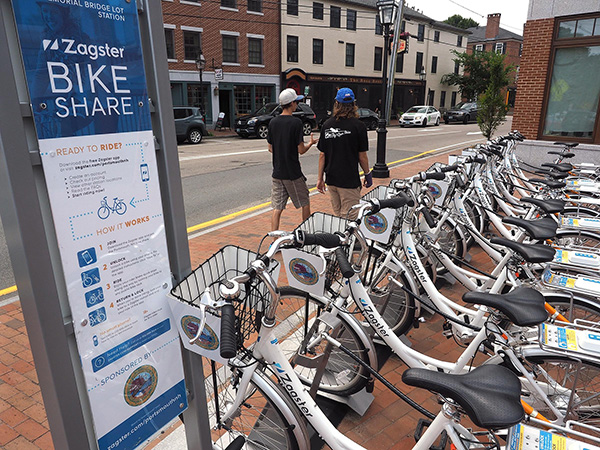 News Release
The City's first bike sharing program is off to a successful start based on statistics provided by Zagster, the company that operates the program. Launched July 20, the program quickly attracted riders and accommodated more than 6,000 trips in the first four weeks alone.
"It appears that Rochester has adopted the bikeshare concept wholeheartedly," said Mayor Lovely A. Warren. "Bike sharing is a win for our city and a win for our residents, students, workers and tourists. It reduces traffic congestion and greenhouse gas emissions, while increasing health and making our neighborhoods and Downtown more vibrant."
"By every metric, this bikeshare has had a phenomenal debut," said Zagster CEO Timothy Ericson. "We look forward to continuing our strong partnership with the City of Rochester and to further engaging with the broader community over the coming years to expand the program's size and scope, reduce barriers to entry, attract more riders and build this into an even stronger, more vibrant service."
To date, Zagster bikes in Rochester have attracted 6,000 riders who've logged more than 12,500 rides. The average ride lasts 25 minutes and the average rider takes 1.5 rides. There about 900 new riders per week, and 67 percent of riders rate their experience a 10 out of 10.
Usage is heaviest Downtown, with the weekends being the busiest rental days. Riders are 55.5 percent male, 44.5 percent female and ridership is highest among 28 and 29-year old's. According to data compiled by Zagster, these statistics translate to a total of 1.32 million calories burned, $31,000 of incremental spending Downtown, 1,200 pounds of carbon dioxide saved and 4,000 fewer single-occupancy car trips.