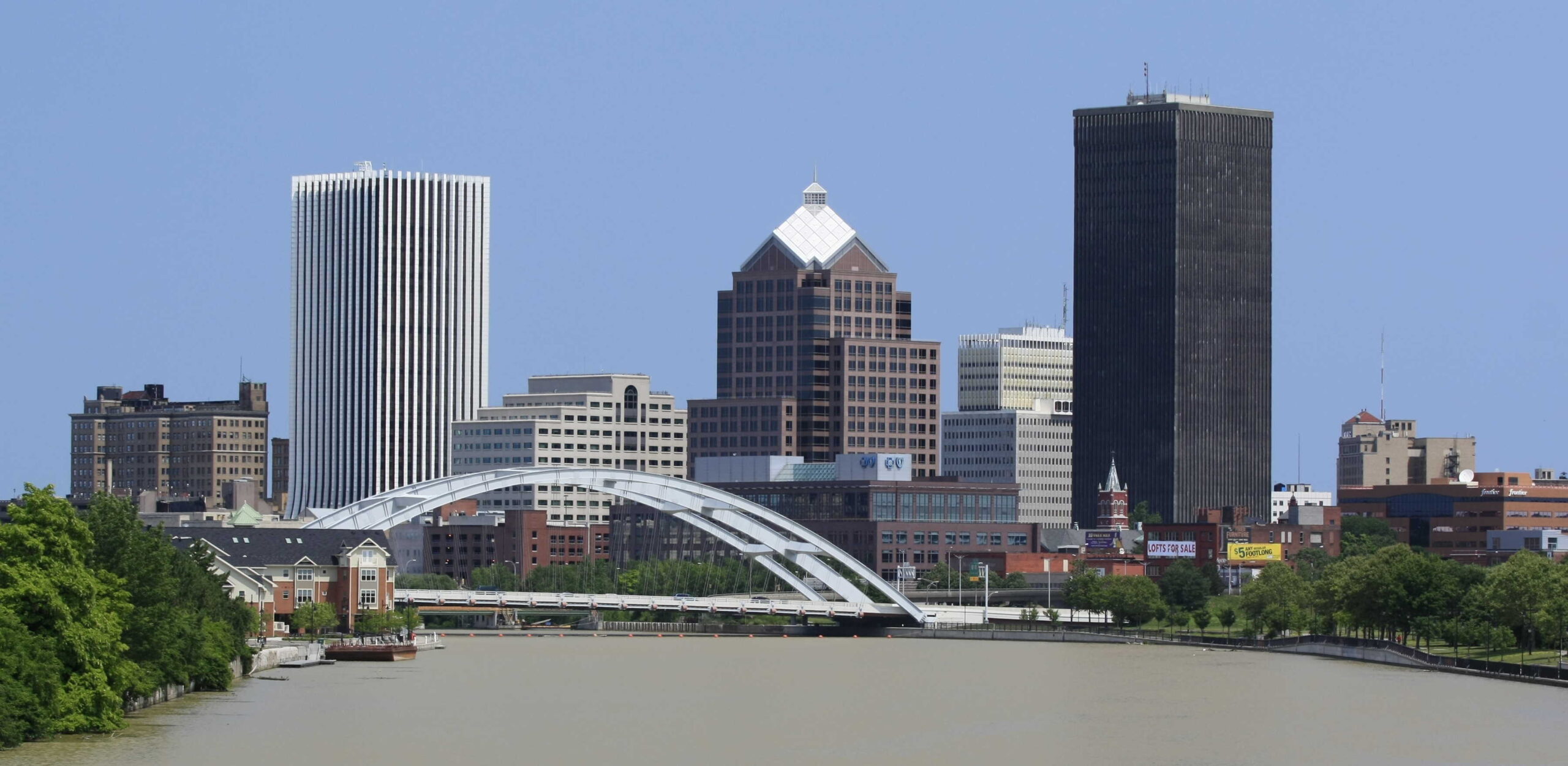 -Rochester, NY-
In a study by the Brooking Institute there are several reasons to suspect that the continuing impacts of the crisis may be more acute in legacy cities, and that they face a more uncertain road to recovery. First, legacy cities started from a weaker economic baseline than other places, with a higher percentage of their populations having only a precarious connection to the economy.
Despite some recent progress, many headline indicators for legacy cities were bleak even before the pandemic. Both Cleveland and Detroit's poverty rates hovered around 33%—roughly three times the national average—while St. Louis, Baltimore, and Philadelphia's poverty rates were over twice the national average. The labor force participation rate (LFPR) showed that almost half of workers in these cities were not even looking for a job, even as the rest of the country enjoyed historically low unemployment rates.
In 2018, Detroit's LFPR was the lowest in the country (despite downtown Detroit booming with thousands of new jobs), followed closely by Cleveland and Baltimore.2 Similarly, these cities displayed sharply lower rates of business creation and levels of median income. Their weaker starting points—exacerbated by layoffs and sharp declines in consumer demand and buying power—represent a toxic mix for legacy city economies during COVID-19.
Second, this weak baseline reflects and is exacerbated by deep racial and spatial inequities and histories of racial discrimination. People of color, particularly Black Americans, make up a significant portion of legacy city populations. Detroit's population is 80% Black, the highest in the country; in other legacy cities, nonwhite residents represent about 40% of the population. Racial inequities are deeply embedded in these cities through significant disparities in access to quality education, jobs and career advancement, and middle-income neighborhoods.
Legacy cities also rank among the most racially segregated metropolitan areas in the country. In 2016, the median income gap between white households and households headed by people of color was about $16,000 nationwide, but $24,000 in legacy cities. These income disparities—combined with barriers to capital and opportunities for equity accumulation and appreciation—produce deep racial wealth disparities in legacy cities, leaving many households with insufficient buffers to weather financial emergencies, and rendering their communities and cities more susceptible to downturns.
Third, the lack of economic growth, unequal access to opportunity, and stressed local budgets have contributed to substantially weaker systems in areas such as education, workforce training, small business support, and basic public services for legacy cities. Legacy cities are saddled with inherent fiscal problems that will exacerbate their entry into—and exit from—the current economic crisis. Before the pandemic, cities such as Detroit were just beginning to dig themselves out of prior fiscal crises, with foreclosures and vacancy rates stabilizing or declining and more residents paying property taxes.
These positive fiscal trends made it possible for Detroit to provide some basic services once again; for instance, in December 2016, 65,000 new LED lights illuminated streets in some neighborhoods that had been dark for decades. While a seemingly minor accomplishment, it was a proud and symbolic moment for a city previously incapable of providing such services.
Yet this progress belied many years of underinvestment in financial, employment, and other fundamental systems that contribute to a vibrant and resilient local economy. Small business support services (e.g., loans, technical assistance, etc.) for minority and women owners were fragile even in the best of times. Buffalo and Rochester already had two of the lowest small business per capita lending rates (by community development financial institutions), followed closely by Cleveland and Baltimore.
3. Given their generally smaller size, more limited access to capital, and smaller cash buffers, Black-owned small businesses are less likely than others to survive the COVID-19 crisis, putting legacy cities at even greater economic risk.
4. These cities are also characterized by highly fragmented workforce training systems, contributing to an insufficient training pipeline for lower-income workers. Despite higher-than-average unemployment and lower-than-average labor force participation in the pre-pandemic labor market, employers in these cities still pointed to a mismatch between open jobs and the supply of trained workers.
Now, as unemployed workers fall behind on their mortgages or rents, landlords' default on loans, and small businesses shutter, legacy cities are likely to face significant municipal revenue shortages which could further weaken critical local systems. As Michael A. Pagano and Christiana K. McFarland observe, many legacy cities have local fiscal structures that leave them even more exposed than other cities to the current economic crisis.
Fourth, the specific impacts of this crisis on higher education, medical centers, cultural institutions, and retail/restaurant corridors imperil—at least in the short term—many of the core and emerging assets of legacy cities. Legacy cities have been buoyed economically by critical assets such as top universities (e.g., Carnegie Mellon in Pittsburgh, Johns Hopkins in Baltimore), research medical centers (e.g., Cleveland Clinic, University of Pittsburgh Medical Center), and cultural institutions (e.g., Detroit Institute of Arts, Cleveland Museum of Art). These remnants of wealthy legacy industries have fueled recoveries across these cities by supporting innovation, attracting professionals who work and live near them, and physically anchoring adjacent, surrounding neighborhoods and creating spinoff businesses.
However, many of these same anchors have been severely affected by the COVID-19 crisis, with higher education institutions unable to bring back full student populations due to virus concerns, medical centers forced to turn away revenue-generating elective surgeries and lay off workers, and cultural institutions devastated by long-term closures and a lack of tourism.
Similarly, before the pandemic, emerging commercial corridors—such as Detroit's Cass and Livernois-McNichols corridors or Pittsburgh's East Liberty neighborhood—were slowly revitalizing historic shopping areas. Commercial corridors in these cities are often characterized by newly established restaurants and retail stores with limited cash reserves—the kind that are increasingly unlikely to reopen as the COVID-19 crisis continues.
This threatens not just the corridors themselves, but also the viability of adjacent neighborhoods in a delicate revival phase.
Fifth, before the crisis, these cities faced structural challenges related to growing automation, which the downturn may accelerate. While the depth of the COVID-19 crisis remains unknown, it is clear that the pandemic will not reverse the preexisting trend of more jobs becoming partially or totally automated. In fact, as Brookings's Mark Muro and colleagues point out, recent recessions have tended to accelerate automation. Cities with high concentrations of white-collar, high-tech workers who can more easily work from home may confront fewer short run challenges and enjoy a smoother path to eventual recovery. Legacy cities, by contrast, have higher shares of their jobs in occupations and industries more susceptible to automation.
For places that are not already high-tech centers, or where tech training programs had only just started to create a pipeline of tech workers, the pandemic could imperil near-term labor market fortunes.