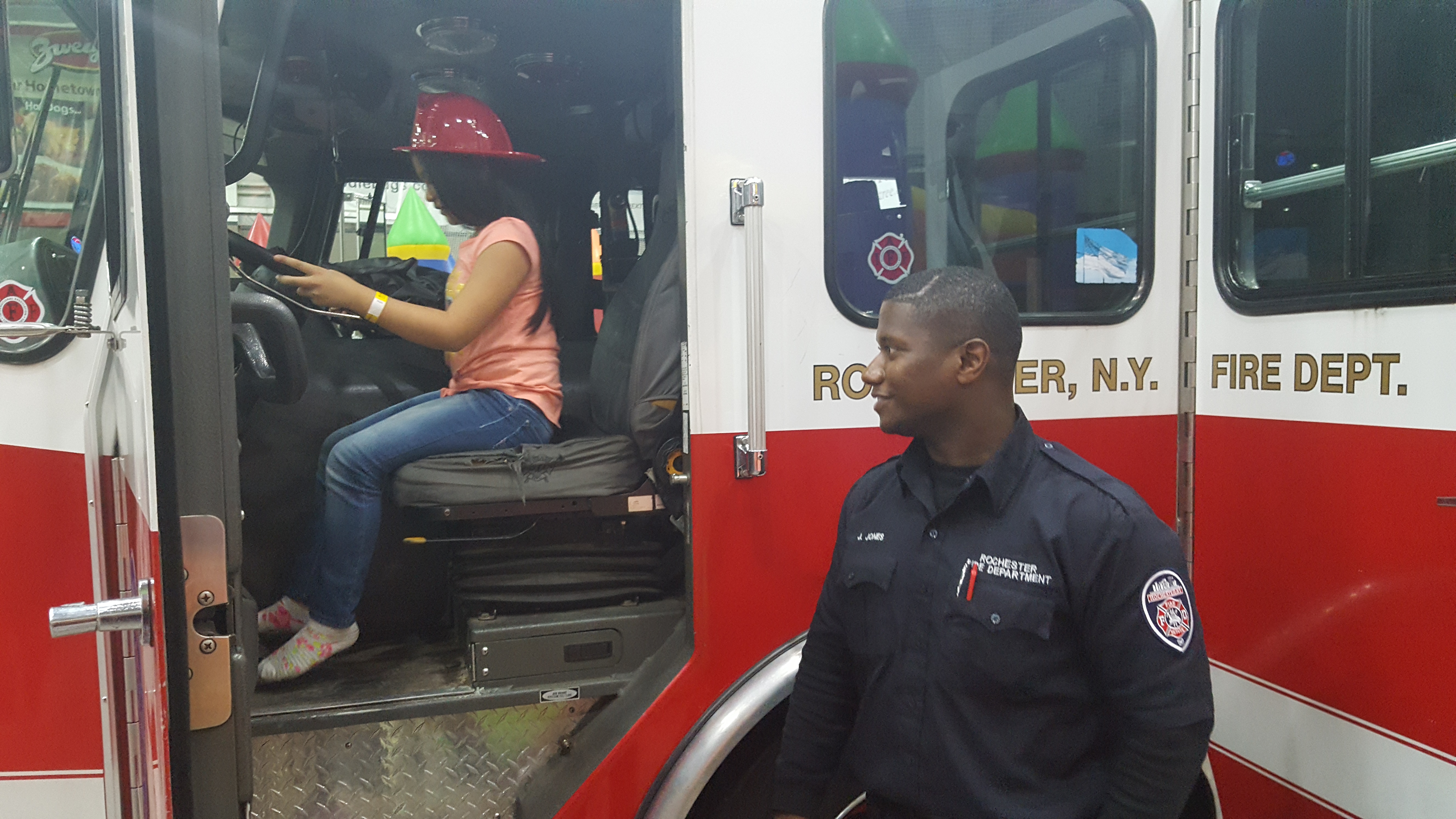 cover photo: RFD Jerrod Jones and RCSD CPPSP Trainee
SOUTHWEST TRIBUNE
"Incoming recruits of the Rochester Fire Department (RFD) commands a little over $45,000 to start. And gradually reaches a base pay of $80,000 with incentives, that tops-off at $85,000 per year," RFD Deputy Chief Willie Jackson added. "This includes a pension plan and healthcare. And they deserve every dime in value, when weighed against the demanding work they do 'on the line' and through informative prevention measures."
"The caveat of being a firefighter is, you don't have to give up your career," Jackson continues. "If you're on the line, you work 3 days and have 2 days off. If you work 3 nights, then you'll have the next 4 days off. The combinations of days and nights adds up too 'only' one-half of a calendar year, not to mention cycle time and furlough time. Therefore, most firefighters have a second career," he said.
It gives, up-and-coming firefighters the opportunity to be successful. It's a career versus a job. And after receiving certification, you can migrate to other states and work as a firefighter. The profession carries national accreditation.
Monroe County Legislator Ernest Flagler, a former member of RFD retired after 20 years, at the age of 38. While, he pursues other endeavors in retirement, his previous career as a firefighter affords him a pension for the rest of his life.
Despite, all the promising facts mentioned above, many city residents; especially those of color are disproportionately among the RFD's ranks.
Since Mayor Warren's service as a member of city council and as its president, she has green-lighted and developed programs that are geared to increase access to public safety jobs through initiatives including seminars and workshops, partnerships with local churches and the Careers Pathways to Public Safety Program (CPPSP), a growing network of interrelated partnerships that strive to meet the needs of the community by providing youth residing in the city of Rochester with both secondary and post-secondary opportunities to prepare them for a career in Public Safety.
"The best way to begin a path on becoming a firefighter in many cases is to 'ask' or 'inform' a current or former firefighter or someone affiliated with the department that you're interested," Chief Schreiber said. "Go to a fire-house and inquire about it and we'll help you do the rest. More than 50% of firefighters in our current ranks are here because they went to a firefighter and ask about its pros and cons."
RFD Administrator Community Risk Reduction Specialist Jerrod Jones, has been with the department for 10 years.
"I was recruited by a fellow firefighter by just asking about the career," Jones said. "Before I join the ranks, I had a good career as an electrician and moving up in my company. Becoming a firefighter was an excellent choice because I was able to secure another career that pays a comfortable salary with excellent incentives, that's now combined with the palpable salary I continue to receive from my duties as an electrician."
The Test:
A passing score on the Civil Service Exam is requisite.
A person doesn't need to have any previous knowledge of firefighting. The test comprises reading and comprehension and multiple-choice questions including math, reasoning and logical thinking (decision making), map reading and memory questions.
The other part of it is physical fitness.
"You got to be somewhat in shape," Jackson points out. "But you don't have to be at the pro-athlete level."
The Exam is about 3 to 4 hours in duration. Training is a little over 6-months, because you're also training to be an EMT (Emergency Medical Technician). Training includes a week of Administration, ten weeks of EMT training and 8 weeks of firefighter training.
"So, you're there for 29 weeks," Jackson said. "We're going to give you all the tutoring and training you need. You just got to bring your willingness to the table."
To learn more about becoming a firefighter:
Students entering the 11th or 12th grade should speak to a guidance counselor at their respective schools and then fill out the application to join the Career Pathways to Public Safety Program, or
Visit a fire-house, or contact RFD Public Information Officer Amon Hudson amon.hudson@cityofrochester.gov or 585-490-4181.