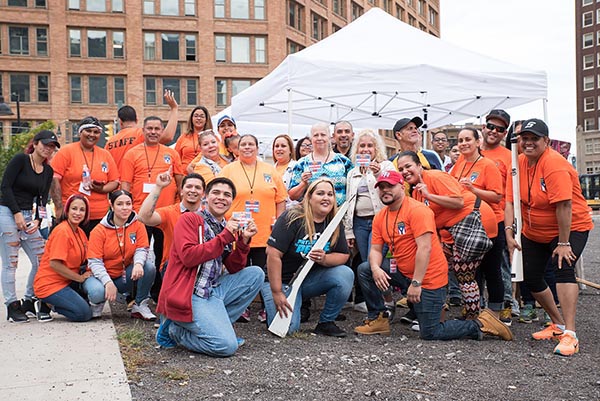 News Release
#ROCRelief Event Fills Four Trucks with Donations, Raises $10,000 for Hurricane Victims
Despite the rain, thousands of Rochester residents came Downtown Saturday to show their support for victims of recent severe weather events, particularly those that hit Puerto Rico and the Caribbean Islands. Mayor Lovely Warren announced that the #ROCRelief event raised $10,000 for the Red Cross, and event organizers filled four box trucks with water, food, medical supplies and other non-perishable items.
"The generosity of the Rochester community cannot be overstated," Mayor Warren said. "What is happening on some Caribbean Islands is a true humanitarian crisis. We have a large Puerto Rican and Caribbean population in Rochester, so these events have hit very close to home. I would like to thank my fellow Rochesterian who have come out to support our Hispanic neighbors in their time of need."
The #ROCRelief event was hosted by the Hispanic Heritage Committee of the City of Rochester in collaboration with the Red Cross, the Rochester City School District, Pathstone, New York State Assemblyman David Gantt, the Rochester Police Department, the Rochester Fire Department, the Puerto Rican Festival, the Puerto Rican Day Parade Committee and the Rochester Latino Theatre Company.
The box trucks will be delivered to the New York State Troopers for delivery to the islands by Gov. Andrew Cuomo's office. The City of Rochester will support continued recovery efforts, and is prepared to welcome any citizens fleeing Puerto Rico with open arms.