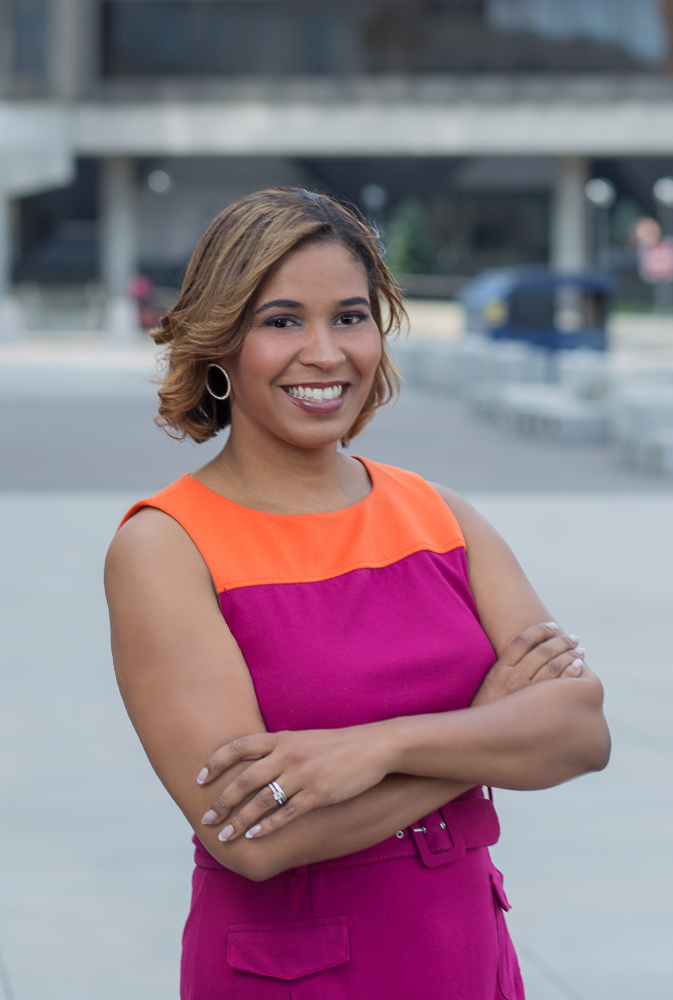 Her name is Jennifer affectionately known by family and friends as Jenny, but for the last 19 years she has settled on Jazz as the 'operative' word that culminates her celebrity name.
Under the pseudonym Jazz Williams at local affiliate News 10 NBC, the radio and TV personality from Detroit, MI is trailblazing a pathway, becoming the first radio personality in Rochester to crossover as an Interactive Traffic Reporter. And on afternoons as Jazzy T, she hosts 'Roc Back to the 90's on Rochester's #1 Radio Station 103.9 WDKX-FM.
At Michigan State University, a graduate of telecommunications with a specialization in digital media arts, Jazz acquired educational training in documentary and film making, as well as advertising, website designs and journalism classes, which are skills she's currently applying in her multiple careers.
Her family moved from Dallas, Texas to Metro Detroit, residing in 10-mile, six months after she was born.
Rapper Eminem starred in 8 mile a 2002 American drama film documents his attempt to launch a career in a genre dominated by African-Americans.
Since the mid-20th century, 8 Mile Road has served as a physical and cultural dividing line between the wealthier, predominantly white northern suburbs of Detroit and the poorer, predominantly black city.
"If you grew up in 8, 9- or 10-mile, you were not different from those living in the impoverished communities and neighborhoods of inner-city Detroit," Jazz says. "I lived in Oakland County, one of the richest counties in Michigan, but I lived on the poor side."
After graduating from Ferndale high school and matriculating at Michigan State, the multi-artist began chasing her dream in Los Angeles, quickly landing employment working behind the scenes as a post-production editor, red carpet interviewer and host for major production conglomerates including Warner Bros., ESPN, B.E.T., Clear Channel and Time Square Media.
Returning to Lansing, MI in 2007 to further explore her dream of hosting a radio program at WQHH, before taking a job at FM 98 WJLB, a station she listened to growing up and dreamt about working with the on-air personalities, she says.
I met my husband, an aspiring video producer at a networking event, who at the time was assembling a new show, offered me a position to come on as one of the show's host.
"So, we started off as a working relationship and began hanging out afterward and now we have two kids," she chuckles. "But we also went into business together and opened a casting company called JR Galactic LLC, an IMDB credited casting and production company serving cable and network television, feature films and online distributions.
"To this day we have a database of 2000 plus actors in Michigan that we call upon to be extras in movies, TV Shows and commercials," Jazz points out. "In Michigan from 2010 to 2012 it was the place to film. At that time, we had the highest tax incentive in the country at 42 percent. So basically, if you were doing a million-dollar film, the state of Michigan guarantee that you get $422,000 back before anyone sees it. I had just returned from L.A. working in productions for TV and films and was familiar with the inside track in how to cater to the Hollywood folks that was coming into Michigan. I literally had a workshop the Michigan Film Office adapted, and I would go around training people about how to be in a movie, be it as an extra, a production assistant or even being a cater," she further explains. "If you're a restaurant and you provide craft services that's a way you could get into the movie business."
JR Galactic has provided actors and actress for productions starring Kurt Russell and Former NFL Hall of Fame Running Back Barry Sanders and another included Christian Slater in a movie called Playback, just to name a few.
"We were not only getting calls domestically who were seeking our pool of talent but also many other places throughout the world," Jazz points out. "However, when Republican Gov. Rick Snyder was elected to office, he slashed the tax incentive and the entire industry went down."
Big movies who were planning on coming to Michigan, ended up going elsewhere or they found it was better just to stay in L.A. or NYC. And it wasn't long before program directors in bordering and regional states knew, Jazzy T was back in town and began placing calls seeking her services.
One weekend, she got a text message through the radio station's short code that stated, [I'm listening to you online, I'm a program director from Buffalo and I'm interested in having you come out and see about an afternoon show here in Buffalo.]
"That was Chris Reynolds at WBLK," Jazz says. "I knew nothing of Western, New York. To me New York was just New York. I've been to Manhattan and was familiar with that part of New York. I knew Buffalo wasn't NYC, but I figure it was going to be similar. Boy was I in for a surprise," she says. "Western, NY is actually more like Michigan that I could ever imagine."
After three and half years working for WBLK, Jazz was introduced to Andre Langston, CEO of WDKX 103.9 FM in 2015, where she's currently writing the next chapters to her already fascinating and storied career in radio and as Rochester's affiliate NBC News Channel 10 Interactive Traffic Reporter.
Southwest Tribune: How do you like the City of Rochester?
Jazzy T:
I found that Rochester has some of the best food ever! I've learned to stay away from chain restaurants because they are so many mom and pop restaurants that are just amazing that I absolutely love including People's Choice and BoBo's to name a couple. So, food first and foremost, but also the willingness from the people to hear about new things and new ways of doing stuff. I think they're a lot of opportunities here in Rochester. And Mayor Warren has been very helpful from the beginning. It has been a 'lovely' experience the entire time since 2015 when I made this my home under Mayor Warren's leadership. I don't know any other, but her leadership and I think she has been great. And I'm probably not suppose to say that, having an opinion being a journalist but it's true. The Black Men Achievement Awards, I've been involved with this year. The wealth of great black leaders here in Rochester is phenomenal! So, Rochester for my family is the ideal home.