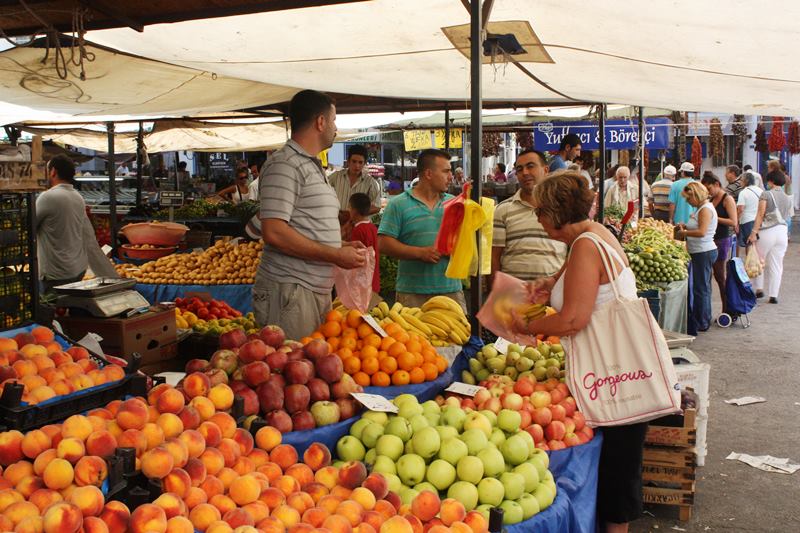 Mayor Lovely A. Warren announced the launch of the 2018 special events series at the City of Rochester Public Market. As in past years, the Market is supplementing its 156 annual Market days with an additional 45 days of special events programming. This season kicks-off with the Community Garage Sales at the Market from 8 a.m. to 2 p.m. on Sundays, April 22 and 29, and the first Food Truck Rodeo takes place at 5 p.m. on Wednesday, April 25.
"Our City of Rochester Public Market is a shining gem, year-round," said Mayor Lovely Warren. In addition to providing a source for fresh, local food, we are always excited to offer free, vibrant events each season. "We owe a great deal of thanks to the Market's many patrons and community partners for helping us grow our award-winning Market each year, helping it remain a regional draw for families and a gathering place for our community."
The 2018 slate of Market special events is as follows:
Community Garage Sales, a bargain-hunters' paradise, feature well over 100 vendors selling a huge array of items. Community Garage Sales are held from 8 a.m. to 2 p.m. on select Sundays: April 22 and 29; June 10, 17 and 24; every Sunday in July and August; Sept. 9, 23 and 30; Oct. 7 and 14.
Food Truck Rodeos, an iconic, "go-to" Rochester experience is a mobile "mangia" mania with up to 30 food trucks, trailers and carts, and live music from 5 to 9 p.m. on the last Wednesday of the month: April 25; May 30; June 27; July 25; Aug. 29 and Sept. 26.
Flower City Days at the Market are a magnet for those seeking the sights and aromas of a long-awaited spring and feature garden goodies from dozens of horticultural vendors. Flower City Days are held from 8 a.m. to 2 p.m. on the following Sundays: May 6, 13, 20, 27; June 3; and additional Memorial Day weekend dates: Fri., May 25 and Mon., May 28.
Celebration of City Neighbors is a "city-wide block party" organized in partnership with NeighborWorks Rochester that takes place from 5 to 7:30 p.m. on Monday, June 4. The Celebration recognizes city residents who are making a difference and features free food, community and neighborhood organization exhibits and live music.
Bands on Bricks is the Market's signature live-music series, bringing both established and up-and-coming national talent to Rochester from 6 to 10 p.m. on the following Friday nights: July 13, 20 and 27; Aug. 3, and 10. See: www.cityofrochester.gov/bandsonbricks.
Gospel Jubilee is the Market's annual showcase and celebration of inspirational music, featuring local and national performers from 4 to 7:30 p.m. on Sunday, July 29.
Bike-In Movie, now in its fourth year, is scheduled for 7:30 p.m., Friday, Aug. 24. This unique event celebrates Rochester's booming bike culture by encouraging attendees to two-wheel to an outdoor movie.
Artist Row is a gathering of nearly 200 community artists and features food vendors and live music, produced by the non-profit Friends of the Rochester Public Market. Artist Row will be held from 10 a.m. to 4 p.m. on Sunday, Sept. 16.
Halloween at the Market will be held from 4:30 to 7 p.m., on Sunday, Oct. 28. This event, now in its third year, is a "bonus" dress-up and trick-or-treat opportunity providing families with the opportunity to learn about community organizations and agencies in Rochester.
Holidays at the Market is a favorite Rochester holiday tradition that starts the Sunday after Thanksgiving. Visitors can shop for fresh-cut trees, wreaths, garlands, gifts, holiday and specialty foods and more and enjoy free horse-drawn carriage rides with Santa. Events are from 9 a.m. to 3 p.m. on the following Sundays: Nov. 25, Dec. 2, 9 and 16.
Beginning May 5, a free Market Shuttle is available for transportation between the East End Garage and the Market every Saturday through October. The shuttle every 20 to 30 minutes, from 8 a.m., with the last ride from the Market to the garage at 1 p.m. The shuttle also runs on Wednesday evenings between 5:30 and 9:30 p.m. for Food Truck Rodeo events. Garage parking rates apply. For more information, visit www.cityofrochester.gov/marketshuttle.
The full 2018 Rochester Public Market Special Events schedule is posted at www.cityofrochester.gov/marketevents. For more information, contact the Market Office at 428-6907, or via email at
[email protected]