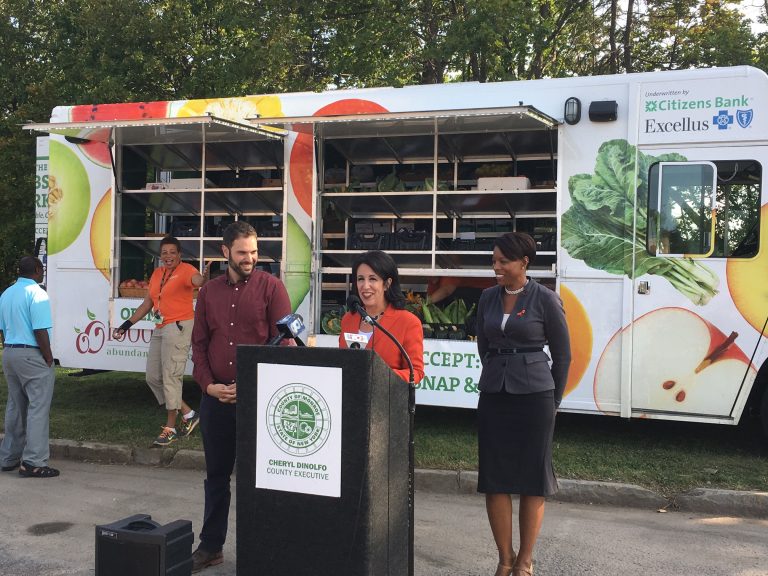 MONROE COUNTY NEWS RELEASE
In recognition of national Hunger Action Month, Monroe County Executive Cheryl Dinolfo announced that Monroe County and Foodlink will soon be partnering to host Foodlink's Curbside Market program at Monroe County's Department of Human Services (MCDHS) campus located at 111 Westfall Road.
"I am so grateful to Foodlink for their partnership in bringing the innovative Curbside Market program directly to the families served by our Department of Human Services," said Dinolfo. "The key to the Curbside Market is location, location, location. By regularly hosting Foodlink's mobile market at our central DHS campus, we can help make fresh, healthy, affordable foods accessible to local families who need it most. This new partnership also comes at no cost to the county, which is great news for these families and local taxpayers."
Monroe County is working closely with Foodlink to develop a rolling schedule of dates and times when the Curbside Market will be available to clients at the MCDHS Westfall campus. Both organizations share a goal of maximizing opportunities for families to access the Curbside Market due to the pronounced local need. According to a 2017 "Map the Meal Gap" report by Feeding America, over 98,000 residents and nearly 1 in 5 children in Monroe County are classified as Food Insecure. The U.S. Department of Agriculture defines Food Insecurity as a lack of consistent access to enough food to support an active, healthy life.
"The Curbside Market aims to increase access to healthy foods for people with SNAP benefits, which is why we are so happy to partner with Monroe County and the Department of Human Services as a new Curbside Market site," said Mitch Gruber, Chief Programs Officer for Foodlink. Launched in 2013, Foodlink's Curbside Market program operates three mobile units stocked with healthy food options such as fruits, vegetables, eggs and nuts that travel to various locations across Monroe County where access to fresh, healthy, affordable food is scarce. In 2016, the Curbside Market reached almost 30,000 customers, with more than 340,000 pounds of fresh produce sold. Supplemental Nutrition Assistance Program (SNAP) beneficiaries also receive twice the value on every dollar spent at the Curbside Market through SNAP's "Double Up Food Bucks Program."
Caption: All Pictures Provided from Monroe County Gov
Foodlink is a regional food hub and the Feeding America food bank serving Allegany, Genesee, Livingston, Monroe, Ontario, Orleans, Seneca, Wayne, Wyoming, and Yates counties. Last year, Foodlink distributed more than 17.4 million points of food, including 4.9 million pounds of produce, offered more than 200 nutrition education courses, and created new access points for healthy foods in under served communities.