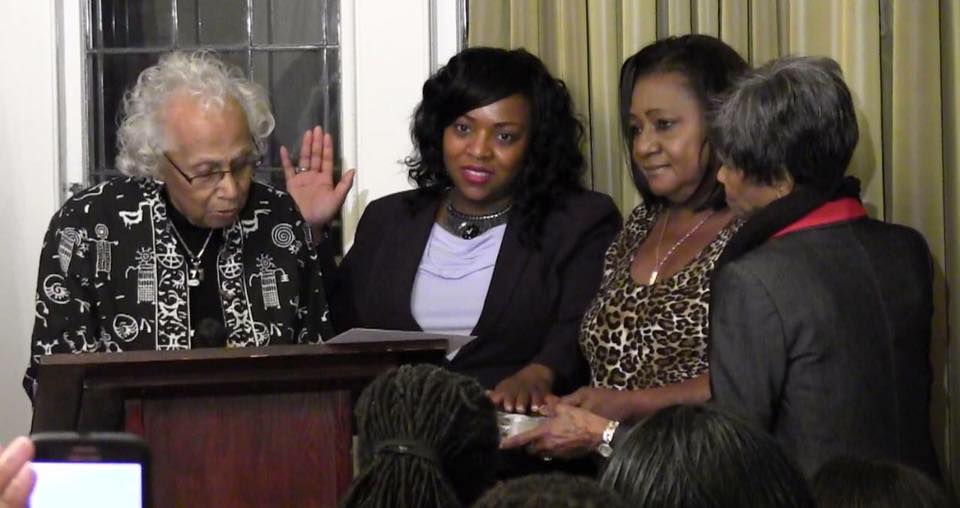 Cover Photo: (L) Constance Mitchell, first women and first women of color to be elected as a Monroe County Legislator (1961-1965), Swearing in Monroe County Legislator LaShay Harris (2016-present) and 2018 Women of Excellence recipient and second women of color to be elected to the county legislature, Shirley Harris (LaShay's mother) and Lee Harris (LaShay's grandmother)
To Attendees of the 2018 Women of Excellence Awards Celebration,
Rochester Business Journal is excited to celebrate with you on Wednesday, April 11 at the Joseph A. Floreano Rochester Riverside Convention Center. We have included details about the schedule for the evening to help you plan ahead. If you are not the attendee, please share the below information with your guest(s
Timing: The general reception (for all winners and guests) begins at 5:30 p.m. and will be held in a curtained-off section of the Empire Ballroom. The program will begin inside the main section of the Empire Ballroom promptly at 6:30 p.m. When you arrive at the Convention Center, please report to the registration table to pick up your name badge.
Seating: This is a ticket-less event. All registered guests will have a name badge at the registration table outside of the Empire Ballroom with assigned seating for dinner.
Special Assistance: If you or any of your guests need special assistance, please let us know by replying to this email.
Attire: This year's event is cocktail or business attire.
Parking: The Convention Center website provides directions and parking options at rrcc.com
. Click on Contact Us in the upper right corner for info.
If you park at the Sister Cities Garage, there will be $5 ticket validation inside the convention center when you enter from the garage. Please keep timing in mind, as the garage can get quite crowded as many of you may know.
Again, we are looking forward to celebrating all of these incredible women with you tomorrow evening. Thank you!
Best,
Stephanie Sulfaro
Events Department
Rochester Business Journal
16 W. Main St., Suite 341
Rochester, NY 14614
585.363.7269
[email protected]
RBJ.net