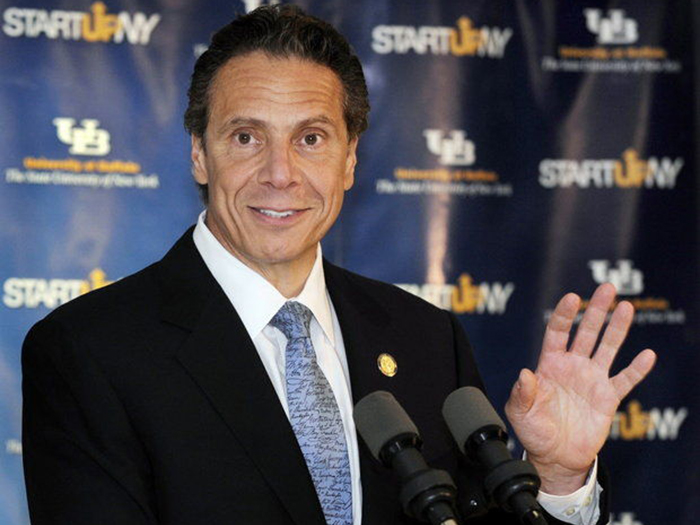 Governor Andrew M. Cuomo today announced $20.5 million in funding for 29 airport projects under the Aviation Capital Grant Program. This state-funded program supports strategic investments at public-use airports across New York to ensure safety, modernize aviation-related facilities, leverage private investment, and sustain and create well-paying aeronautical-related jobs.
"New York's airports are the front door to the Empire State, and to build on our efforts to attract new businesses and visitors, we will invest in these regional gateways to provide the best and safest travel opportunities for everyone," Governor Cuomo said. "Modernizing our airports and transforming them into state-of-the-art transit hubs will keep New York competitive in today's global economy, while providing an improved, more efficient means of travel for residents and visitors for decades to come."
In March 2017, Governor Cuomo announced the availability of funding, which was included in the $21.1 billion five-year State Transportation Plan. Projects funded under this initiative include security checkpoint enhancements; acquisition of ground service and maintenance equipment; terminal modernization and expansion; and construction of airplane hangar facilities.
The following public-use airports have received funding in each region:
Capital Region: $2.6 million
• $249,723 to Columbia County Airport for Demolition of Farm Structures/Obstructions.
• $1,485,000 to Schenectady County Airport to Construct Business Aviation Complex.
• $864,000 to South Albany Airport for Hangar Construction and Security Improvements.
Central New York: $1.1 million
• $1,080,000 to Oswego County Airport for Terminal Building Construction.
Finger Lakes: $5 million
• $1,485,000 to Canandaigua Airport to Construct General Aviation Terminal Building.
• $662,474 to Finger Lakes Regional to Construct New Jet-A Fuel Farm.
• $356,250 to Genesee County Airport to Purchase Ground Service Equipment.
• $972,325 to Ledgedale Airport for Airfield Lighting Improvements and Runway Markings.
• $421,200 to Penn Yan-Yates County Airport for Airport Sanitary Sewer Extension.
• $1,068,400 to Williamson-Sodus Airport to Construct 18 Unit T-Hangar.
Long Island: $2 million
• $995,000 to Francis S. Gabreski Airport for New Air Traffic Control Tower.
• $960,000 to Long Island MacArthur Airport to Purchase 800 KW Diesel-Power Generator.
• $54,722 to Brookhaven-Calabro Airport to Purchase a Crack-Sealing Machine.
Mid-Hudson Valley: $1.9 million
• $1,307,646 to Orange County Airport for New Corporate Bulk Hangar.
• $485,100 to Sullivan County International Airport to Replace Fuel Farm.
• $70,470 to Hudson Valley Regional Airport to Purchase a Maintenance Vehicle.
Mohawk Valley: $1.5 million
• $27,000 to Fulton County Airport for Airport Sign Replacement Project.
• $1,500,000 to Griffiss International Airport to Convert Hangar for Community College Aviation School.
North Country: $3 million
• $270,000 to Adirondack Regional Airport to Rehabilitate Town Hangar.
• $893,700 to Floyd Bennett Memorial Airport to Construct Two New 10 Bay T-Hangars.
• $180,000 to Massena International Airport to Purchase Fuel Truck.
• $154,800 to Potsdam Municipal Airport to Acquire Multi-Purpose Airport Maintenance Equipment.
• $1,500,000 to Watertown International Airport to Construct a New Hangar for Air Ambulance Services.
Southern Tier: $500,000
• $448,200 to Corning-Painted Post Airport to Construct Helicopter Maintenance and Storage Hangar.
Western New York: $3 million
• $1,500,000 to Buffalo Niagara International Airport for Security Checkpoint Expansion Project.
• $271,800 to Chautauqua County/Jamestown Airport for Replacement of a Bulk Hangar Door.
• $507,246 to Niagara Falls International Airport for a Security Fencing Project.
• $257,365 to Wellsville Municipal Airport for Snow Removal Equipment Acquisition.
• $466,620 to Chautauqua County/Dunkirk Airport to Demolish an Existing Bulk Hangar and Construct a Public Safety Hangar.
The State Department of Transportation will immediately begin to work with airport project sponsors on the delivery of the planned improvements.
"Through sustained investments in airports across New York State, Governor Cuomo is ensuring that the State's communities remain economically competitive, "New York State Department of Transportation Acting Commissioner Paul A. Karas said. "These state investments will assist New York airports in achieving their mission, which is to further economic development."
Senator Joseph E. Robach, Chair of the Senate Committee on Transportation said, "These investments are critical to completing 21st century upgrades and necessary safety improvements at airports across the State. I commend Governor Cuomo for ensuring these enhancements are made and for solidifying New York's place as a top destination for both business and leisure. By making it easier than ever before to travel to and from every region in this state, we are attracting retaining families and businesses in our communities, while attracting the next generation workforce."
Assemblyman David F. Gantt, Chair of the Assembly Committee on Transportation said, "Transportation upgrades have been a key priority of this administration since day one, and I'm thrilled to work with the legislature and the Governor to award this funding to airports across the state. Investments in New York's transportation infrastructure is necessary to ensure the safety of all travelers, and by making transformative changes to our regional airports, we will help attract more visitors, support local businesses in surrounding communities, and increase access to convenient, efficient travel options for decades to come."
Senator Phil Boyle, Co-Chair of New York's Legislative Aviation Caucus said, "I commend Governor Cuomo for recognizing the importance of investing in these transportation hubs, and for making funding available to these regional airports that will help meet the needs of both travelers and businesses. By investing in the future of aviation travel, our local communities and small businesses will reap the benefits of an increase in flights and passengers, and will keep New York economically competitive with neighboring states."
Assembly member Donna Lupardo, Co-Chair of New York's Legislative Aviation Caucus said, "This is excellent news for New York's airports, especially those Upstate. The news about smaller airport improvements is something Caucus members have been advocating for. I'd like to thank the Governor for his ongoing commitment to New York airports and the aviation industry. The capital grant program is providing resources airports need to complete 21st Century renovations that will help retain businesses of all sizes, while attracting more visitors to the state."