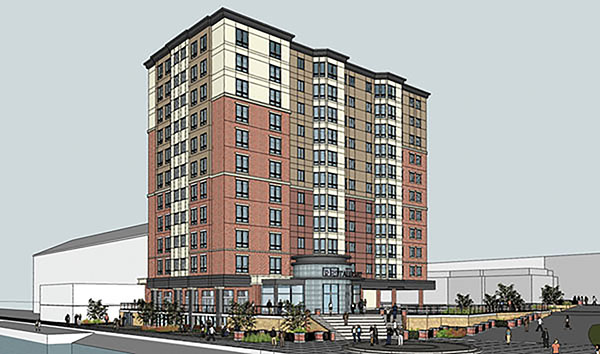 BY RODNEY BROWN
In July of 2017, the Southwest Common Council (SWCC), hosted a meeting to review, -- What is required to alter the covenant, to permit alternate use of a first-floor restaurant, at 1500 South Plymouth Avenue.
The restaurant is situated, at the base of the 100,000-square foot, 11 story mixed-use building (referred to as Flats at Brooks Landing), consisting of, 10 floors designated, for student housing.
"The restaurant has been empty for more than 3 years and there's no potential restaurateur on board, who is ready to come-in and fulfill the local community's desire, to open a destination restaurant, which differs from food outlets like Applebee's, or fast-food chain restaurants," said John Boutet, co-chair of SWCC
Some suggestions that came out of that meeting included, slicing up the space into 3 sections for smaller businesses, a fast food-chain restaurant, a Credit Union Bank, a cultural center, or a community fitness center.
Even though, a restaurant continues to be the local community's top choice, a proposal by John Curran, a former educator of the Rochester City School District, is beginning to draw considerable attention.
According to Curran, the unused and undeveloped first floor space, at Brooks Crossing student high-rise residence, affords the opportunity to develop a mutually beneficial state-of-the-art interactive technology center. "And installing high tech resources here, would benefit both the southwest neighborhood and the University of Rochester, Curran points out. "The center will feature current technologies, team-building instructional areas and innovative project development laboratories."
"Distance-learning interactivity based here, promotes individualized tutoring, navigating bureaucracies and virtual medical consultation," Curran suggests. "University students would have an additional popular 'Collaboratory' near the River campus, where it is needed. And Elementary and secondary school students, plus intergenerational neighbors would share the site during daytime hours, working with collegiate role models," he said. "The center would provide access to new learning technologies, makers' spaces for team projects, smart walls, 3-D printing, smart phones, sewing machines, gaming skills and ancestry research."
Curran, has on-going ties to the southwest quadrant since 1982, but is not a resident. He has collaborated with several southwest neighborhood associations, on various history and charrette projects.
SWCC meetings are held every 3rd Thursday, 6pm-7:30pm, at Phillis Wheatley Library.
According to SWCC, the SWCC represents leaders, community residents and stakeholders, who meet to contribute to the vision and planning for the Southwest quadrant. SWCC motto: The Door is Always Open.