Cover Photo: Fatimat O. Reid
For more than three decades, most presiding judges in Monroe County have been Republicans.
If, Deputy Attorney Zuleika Z. Shepard and Rochester City School District's Chief of Staff Fatimat O. Reid are elected to the bench on Tuesday, November 6, 2018, it wouldn't be 'only' a good sign that Democrats are beginning to care about judicial races, the candidates would be tied for the 'first' Black woman elected to a county judgeship.
And to help them do that, the candidates requests democratic and independent voters come together and come-out and vote.
"Make this race one of the priority races you come-out for," Deputy Attorney Zuleika Z. Shepard says. "I think, it's the best thing that can happen for all of us. Because, we're running because we care. And I can speak from personal experiences. I'm in family courts five days of the week and I've heard litigants say, I don't feel I can get a fair shake in court, because I'm an African American male. You hear that and its heart breaking. And to yourself, you think this needs to change. People should never feel when they come into court, they're not going to get a fair shake because of the color of their skin. This should never happen. That's why, the community must recognize and realize the importance of voting. Because some time, we just sit aside during these races and think this is not a presidential year. So, we choose not to care about the judiciary races, under the assumption that they don't t affect you. But yes, they do. And I can guarantee, either you or someone you know have had contact with the family court. So, it's important. And that's why we need the community to come-out and vote.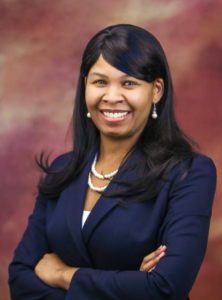 "And I couldn't agree more," adds RCSD Chief of Staff Fatimat O. Reid. "It does affect the entire community. This is not a black or white thing, Republican or Democrat thing. It's about families. The courts make decisions on big issues that affect families and the entire community. Making sure people come out and vote in this judicial election, I believe is the most important race this year. The two judges that get elected will be here for ten years. So, we can get some work done."
BACKGROUNDS
By the time of Fatimat O. Reid's graduation, she was accepted to both law and medical school. Despite, she was in foster care and assigned to a child advocate from the age of 10 to 18. And at one point homeless at the age of 16.
"I've experienced a lot over my lifetime; especially when I went through the family court system, when I was 10 years old," Reid recalls. "The court separated my sister and I, as being in our best interest. And at that time, she was the only person I knew in the entire United States. So, my child advocate played a key role and influenced my life in a way that helped me connect the dots and allowed me to see, how my child advocate, who's now a current presiding judge in California, but then a lawyer, impacted people lives by being thoughtful in explaining things and people respected that," Reid says. "I really believe, if you understand the law and its application there's not much people can do to you. You might have to still fight hard, but having that knowledge is still important. So, I wanted to become a lawyer to be that presence like my child advocate, where people are comfortable and have access to legal consultation, they otherwise would not be afforded."
Deputy Attorney Zuleika Z. Shepard:
Since I was 9-years old, I always wanted to become a judge. My mother would sit me down in front of TV court shows like The People's Court, and Judge Judy. And they had an influence on me because I felt they were doing something very important, which is helping people. And I wanted to help people, which is the entire basis of the family court. The kids are our future and the decisions made in that court affect not only the children, but us all. And you want a generation coming up that feels encouraged, loved, and are confident, they will be treated fairly in their legal system.
Southwest Tribune: Would your court room have an appeal like TV court Judge Greg Mathis, of understanding a contemporary way of life through the lens of experiences encountered, while growing-up in your hometown neighborhoods?
RCSD Chief of Staff Fatimat O. Reid:
And that's what we're trying to relay. However, it's not being so much lenient in a way that people are going to come-in our court with that foolishness, either. We've been there and done that. But, we are of the community and a part of the community. We go to church here and participate in organizations here. This is our community.
Deputy Attorney Zuleika Z. Shepard:
I'm so thankful to be able to be in this race. I'm meeting, so many fantastic people in the community. And it's funny, you see people who have known you growing up, whether they're teachers or former neighbors. So, this has been great because it's why I'm running. I'm running for all of you and I want to make all of you proud. So, this has been a fantastic experience!
RCSD Chief of Staff Fatimat O. Reid:
I think people are ready for a change!
To learn more about the candidates and their platforms visit Fatimat O. Reid for Family Court Judge at www.fatimatforfamilycourt.com or 585-705-5487 or Zuleika Z. Shepard for Family Court Judge at www.zuleikaforfamilycourt.com or 585-678-1406.