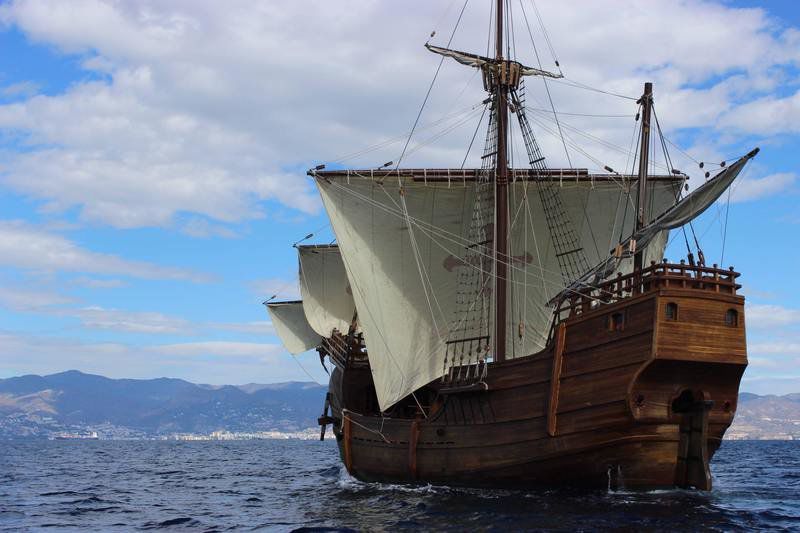 A replica of the Tall Ship Santa Maria is scheduled to arrive at the Port of Rochester tomorrow morning, Thursday, June 27. Once docked, the ship will remain at the Port through Sunday, June 30, and will be open for daily tours from 10 a.m. until 8 p.m.
Originally, the ship was expected to reach the Port of Rochester on June 22. However, heavy outflow in the St. Lawrence Seaway required that the ship travel at significantly lower speeds, resulting in the delayed arrival.
The 93-foot, 200-ton replica of Columbus's famous flagship was constructed in Spain by the Nao Victoria Foundation in commemoration of the 525th anniversary of the voyage that first discovered the maritime routes that led to America. The replica took over 16 months to complete and was finished in March 2018. This visit to Rochester will be the first time the ship has been in port in the United States.
Tickets to tour the Nao Santa Maria will be available for purchase at the Port of Rochester dock or at www.naosantamaria.org. Tickets are $10 for adults and children ages 11 and up; $5 for youth ages 6 – 10; children ages 5 and under are admitted free. There is a family rate of $25, which includes two adults and up to three children. Group rates and tours are also available for 10 or more people. For more information, call (904) 770-0293.
The visit of the Nao Santa Maria is sponsored by the Port of Rochester Marina. All proceeds will support the non-profit entity which operates and maintains the vessel.
For more information, contactJessica Alaimo, 428-7135.