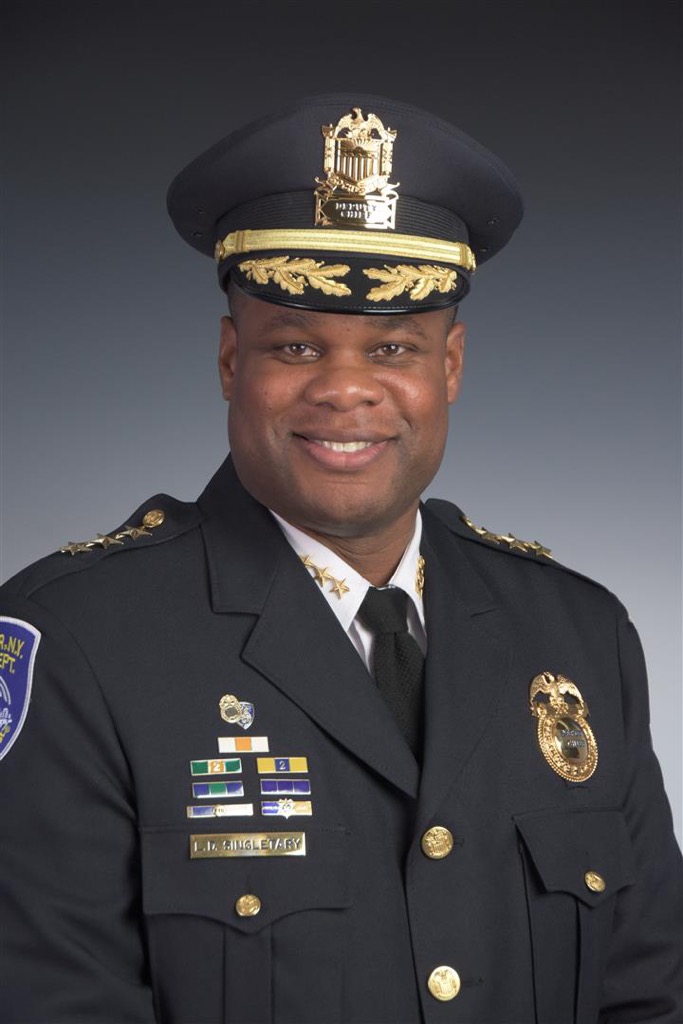 The establishment of the Rochester Police Department (RPD) in 1819, constitutes 2019 as its bicentennial anniversary and commemorates Mayor Warren's April promotion of La'Ron Singletary to Chief, who's now the youngest to lead Rochester's police force at 39, in its 200 years old history.
The City's Charter requires a confirmation hearing in June that will officially install Singletary as Chief.
His dream to become a cop goes back to his years as a toddler, dangling his feet off the couch watching the television show Cops and impulsively reminding his granddad during commercials that one day, he'll join the law enforcement ranks.
"I always knew I wanted to be a police officer," Singletary says. "My dad was great with buying gifts that aligned with any extracurricular activity my brother or myself most enjoyed or was fascinated with. His preference on raising us was always goal-oriented."
For example, Singletary's brother was the athlete of the family, so he would receive gifts associated with playing sports like a basketball or baseball bat.
"At John Marshall high school, I studied Law and Government and from 14 to 19, participated in a program offered through Boy Scouts of America, that provided an opportunity to learn what it's about to be a police officer," Singletary points out. "Therefore, my gifts were related to the field of law enforcement like a police scanner. And I remember riding around the neighborhood on my bike listening to calls and going to some of them and establishing different relationships."
After graduating, he attended Monroe Community College, where he earned an associate degree, while working as an intern at the RPD. In July of 2000, he joined the department before returning back-to-school in 2006, to earn a bachelor's degree in criminal justice and a master's degree in public administration in 2009.
Singletary believes his youth allows him to offer a different perspective in a leadership position that's traditionally reserved for persons much older.
"Throughout the last two-weeks people had commented that it's good to see someone in there that's not close to retirement age," Singletary says. "I'm from the city, I went to city schools. And a lot of those people who are on the streets now, are adults I grew up with. I'm someone who can relate to what's going on and bring innovation. So, I've made youth engagement a priority, because I believe not having too much of an age gap as a benefactor. But at the end of the day it boils down to the person who's qualified to do the job. And because of that, I believe a person's age is irrelevant."
For example, he advocates: If he was 60 years old and had 19 years on the job, would that make him more qualified than being 39 with 19 years on the job because he started at 20 years old, other than life experiences?
"When I first came on the job at 20 years old, I was responding to domestic issues that dealt with people who were probably married more than the years I've been alive," Singletary says. "So, you have to take what the department has given you, such as your training, your personal and professional experiences and being able to apply those and adapt to certain situations and that's what I'm going to be doing at this job."
Singletary also points out, he's in the midst of hitting roll call with a concrete message of mission, vision and values, and what he expects and what his beliefs are and have it permeated the force.
"Not just talk but it has to be action as well." he says. "The officer has to go out there and engage. Many communities want a police department that's tough on crime but engaging at the same time. It's a balance we can accomplish but it starts at the top with me and transcends down to everyone in the organization both sworn and civilian members of the force."
Singletary believes the police department is a business that delivers a different kind of service that can be compared to Wegmans's grocery stores when you walk in, he says. There's a certain level of customer service the employee is expected to give the customer and there's also a certain level of customer service the customer expects of the employee. It should be no different in a police department, he further explains. The chief is the CEO of the organization and like a business, the police force must have strategies and policies that fosters success, but it has to transcend throughout the organization.
When Singletary was promoted to Deputy Chief of Community Engagement in January of 2018, the Mayor requested a community policing plan within 60 days.
After studying several successful models implemented at precincts that are experiencing similar nuisances to that of Rochester, Singletary presented a plan that would add a new bureau to the current two; Operation and Administration. After revisions, the plan was approved and implemented on July 1, of 2018.
The new bureau includes the RPD Recruitment Unit (view Police Officer Candidate Requirements), Community Policing Unit (which includes Neighborhood Service Centers and Crime Prevention Officers) and Youth Services Unit (which includes School Resource Officers).
In an effort to form a better relationship between the RPD and community, the deputy chief of Community Affairs is the Department's Chief Public Information Officer and is responsible for assisting the Chief of Police in coordinating all community relations and engagement activities.
In all, the new bureau is designed to complement Mayor Warren's commitment to move back to decentralized 'community policing' with an aim to put officers more in touch with their neighbors.
"Moving the Operations Bureau away from a two-patrol division to five will allow a section of officers to be in the community as well as officers who are assigned to a specific patrol beat and a specific area, allowing them to engage with the residents and the business owners in that area," he points out. The RPD is divided into three Bureaus: Operations, Administration and Community Affairs. The Operations Bureau consists of the Patrol Division, which includes the five patrol sections:
• Lake
• Genesee
• Goodman
• Clinton
• Central
"You want officers out of the cars, you want them stepping into businesses getting to know people, stopping in to say hi, I work this area, and just have a general conversation. It's hard to hate up close," he explains as: Getting in a place where we can see each another.
"I think once we begin to see each other, you can begin to understand each other," Singletary says. "I myself will be engaging with residents in the communities because I believe when any chief of a police department participates within the community policing model on this level shows they care about the residents, that community, and his or her job. So, I think when we see each other, we understand each other better and I think that's the whole goal of community policing, which is to offer that opportunity to engage. And I think people feel better and are more apt to cooperate with the police if they believe the police are heavily involved in the fight against crime, because people are not going to get involved if they think the police is not winning."
Let me ask you some pointed concerns of the community.
SOUTHWEST TRIBUNE: Mental Illness is prevalent in our communities and there can be occurrences where patients are physically assaulted by officers using excessive force or killed because the responding officer is not trained with that specific skill set when they arrive on the scene and mistakes a person's illness for hostility. Is this a concern in your administration?
CHIEF SINGLETARY:
When time allows an officer to respond with a certain skill set is what we want to happen in a perfect world but sometimes a perfect world doesn't exist. However, we certainly have individuals who are trained in mental health, who tries to respond and will often respond when situations occur like that. We have a crime intervention team and they are trained to deal with individual support suffering and mental health issues. And we work with a lot of outside entities like the Office of Mental Health. And I believe cultural competency is important in a city that have a majority minority and a considerable number of individuals with mental health issues. So, I want every police officer that come through the academy to have cultural competency training to understand in totality the people they have sworn to serve and protect.
SOUTHWEST TRIBUNE: Law enforcement officials continues to complain that people need to step up and work with officers to help prevent and solve crimes in their communities. However, residents in those same communities continue to also complain about the 'Blue Code of Silence' that sometimes exist among fellow officers in orchestrated cover-ups of wrongdoing that results in judgments 'most likely' that ends in the placement of innocent individuals on probation or they're wrongly sentenced to time in jail or prison. How do we balance this convergence to foster rectification and usher in a mutual sense of trust on both sides?
CHIEF SINGLETARY:
We know that there's a history of this sometimes occurring. So, we have to talk to one another and if you believe something has been done wrong, you have to have trust in the system and bring it to the individuals responsible and trust the individuals within those positions they hold to properly investigate such, to come to a conclusion. I guess what I'm trying to say, to have trust in the system, I guess you have to have trust in me to get the job done. I always preach when we speak as law enforcement officers whether we are in the courtroom, out in the streets or at a backyard barbecue, we have to be believed because if not, we are no good to each other. My five principals going forward is PRIDE. We wear it on our patch and police cars. The letters of PRIDE are our acronym for professionalism, respect, integrity, dedication and excellence. If you do those things and abide by the training, you have; you should be good, and I'll back you 100%. But if you don't have trust or integrity, we are no good to each other and the respect piece is what I'm demanding on both sides. I'm demanding it from my officers, and I hope to earn mutual trust from the community as well. We're not always going to agree but I ask, if you feel you have been done wrong, bring it to our attention and I can assure you its going to be looked at, nothing is going to be swept under the rug.
SOUTHWEST TRIBUNE: Do you want to continue to hold the sole power to make the final decision on the fate of officers the Police Accountability Board recommends for discipline or relinquish it to an independent board as city council is suggesting in its drafted legislation?
CHIEF SINGLETARY:
For me, whatever the community wants. My job is to implement whatever is passed through legislation, what I ask that it be fair for both sides. Certainly, I think for the police chief to have the final say when it comes to discipline is a key component but at the same time if the citizens, the voters, and the council believe otherwise, then it's my job to implement such. But that also goes into the trust factor as well. You have to trust me that I'll make the decision to hold officers accountable for their actions. Accountability going forward is my mantra as is community policing. In any situation, I'm going to do what's right at all times. If it shall be the case, I am confident I can without bias make the right decision in tough times by always ruling on the side that will provide in each specific case undeniable proof that the decision I'm poised to make will restore 'Justice' to the victim or victims.