Bike share returned this week for a third season in the City of Rochester, Mayor Lovely Warren announced.
"Rochester is proud to have one of the most robust bike-share programs in New York State," Warren said. "I am thankful to Zagster for continuing to recognize the needs of our community by continually working to provide a reliable, affordable transportation service for our residents. A dynamic bike share system is an integral component of our complete-streets transportation network and bolsters our efforts to create more jobs, safer and more vibrant neighborhoods and better educational opportunities for our residents."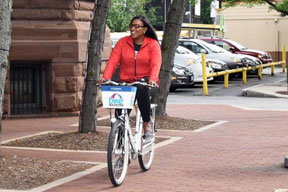 A total of 350 Pace bicycles are available at locations throughout the city for public use, complementing the growing amount of bicycle infrastructure that include a trail added on the Driving Park Avenue Bridge and new bike lanes on Cleveland/Draper Streets and Central Park.
"We are appreciative of the City's enthusiasm to innovate and grow with our product these past two years," said Keli Hoyt-Rupert, Director of Market Management for Zagster, the system's operator. "In 2019, we look forward to introducing new features and opportunities to help Rochester move in an affordable, reliable and convenient manner."
Approximately 16,900 users combined to take 54,000 trips last year, just about doubling ridership from the system's first year of operation in 2017.
New pricing will be introduced to the program this year to improve reliability and affordability for everyday users:
● *New* Annual Membership is $60 ($30 for students, EBT, military or seniors), and includes unlimited 30 minute trips;
● Monthly Membership is $10 ($5 for students, EBT, military or seniors), and includes unlimited 30 minute trips;
● Pay-as-you-go starts at $1 per 15 minutes
In addition to the revised pricing structure, users can now pay with cash through a partnership with PayPal. More information can be found at https://ridepace.com/pledge/.
Critical to the program's success are private sponsors who continue to help advance efforts to improve bicycling and transit access in the city. Key system sponsors include Costello Group, Excellus Blue Cross Blue Shield, Five Star Bank, MVP Health Care, Reconnect Rochester, University of Rochester, Rochester Institute of Technology, Three City Center Partners and Winn Development.
For more information contact Jessica Alaimo at 428-7135.