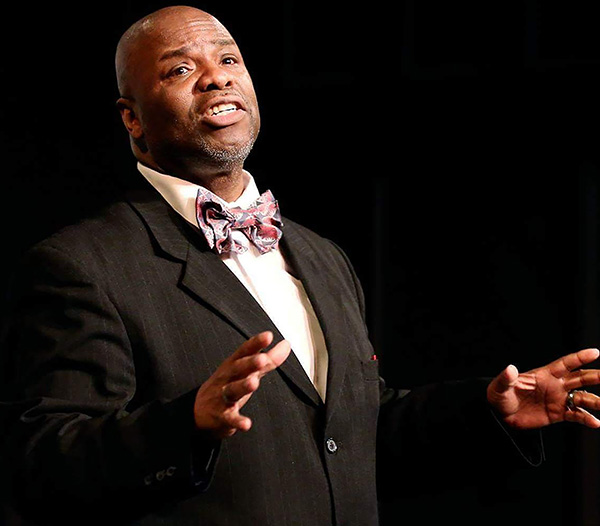 BY MICHAEL BRUCE
As a little boy, I've always wanted to play an instrument and sing. So, my parents sent me to music school to learn how to play the guitar.
Before my parents decided to enroll me in music school, I'd learned how to play the guitar by ear. On the first day, I could show my music teacher notes, he'd never seen or heard of before.
My instructor told my parents, they shouldn't waste their money enrolling me back in music school. I went on to organize my first musical group at the age of nine. And my dream was to become a professional entertainer and travel the world.
During my career, I've had the opportunity to share my gift with many people, locally and nationally. And traveled with many groups like the Bright Clouds, Chronicles Now Divine Nature and Redemption.
I was nominated for a Grammy Award in 1989, 'Hallelujah Is the Highest Praise,' a track that was produced during a live recording in Buffalo, NY.
The highlight of my career was when I was signed to Tribute Records by renowned producer Ben Tankard. He seen something in me that most of my peers have seen for years.
I'm thankful for the opportunities that God has allowed me to experience. You'd never think with a wonderful career ahead of you, it would come to a screeching halt. Well, it did on December 28th, of 2008.
After coming home from a heartfelt church service and enjoying some brownies, my twin daughters made. I was on the phone with a brother from the church, when my conversation went from normal to a slur.
I dropped the phone and tried to sit up and could not feel anything on the left side of my body. I was thinking, I was halfway asleep. I struggled upstairs to use the bathroom and could not zip up my pants.
I then went into my bedroom, where my wife and girls were and said, honey something is wrong with me. She looks at me strangely and said, "Oh no you're going to the hospital."
As with most men, pride kicked in and I said, I'm not going to any hospital. My wife noticed, the left side of my face was disfigured and demanded that we go to the emergency room immediately.
When I checked in, they took my blood pressure and I was told to sit in a wheelchair. I knew then, something was seriously wrong.
I was having a Stroke. They rushed me to the 7th floor. When the elevator doors came open, over the entrance it read: Acute Stroke Unit.
And it was then, when the reality started to set in. My left side was totally numb. I was not thinking of death, I was concerned if I'd ever play any instrument again or play basketball with my twin girls.
It's true, we take for granted the use of our limbs and how important our legs and hands play a tremendous part in our everyday lives.
I've recorded a song, God Won't Put No More on You Than You Can Bear, not knowing that [He] was going to allow something of this magnitude to affect my life
Sometimes, God will allow certain things to happen to you, just to get your attention. This has certainly altered my lifestyle to the point of health awareness
I was diagnosed with Type 2 Diabetes a few years ago. However, I did not follow through as my doctor instructed and the result of it was having carotid artery (main vein) surgery in 2012 to remove plague that was blocking the blood flow from my heart to the brain.
My doctor said, I wouldn't be able to sing for at least nine months. However, after waking up from the anesthesia on the recovery table---guess what I was doing? SINGING!
I'm ecstatic that my story doesn't end tragically, but triumphantly. I still have the numbness on my left side and really can't play the guitar to the standard, I once was able to do. However, I'm playing the keyboards and still singing God's praises and believing God for a full recovery. If you want to see a miracle, just look at me. God can do exceedingly and abundantly above all that you can ask or think. He's ABLE!