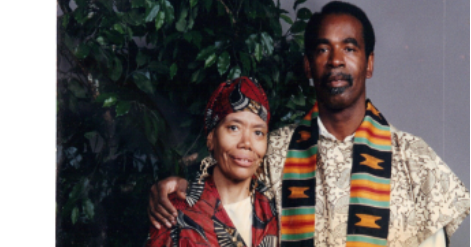 The Rochester, NY community and the Elyria, OH community are saddened by the passing of a distinguished scholar, researcher, community organizer, teacher, case manager and clergyman--- the renowned Minister Lawrance Lee Evans, who passed away on Sunday, September 9, 2018 from a brief illness.
Minister Lawrance Lee Evans is perhaps best known as, the founder of the only teaching church in Rochester---First Community Interfaith Institute Inc. He began First Community Interfaith Institute Inc. on the campus of Colgate Rochester Divinity School on November 2, 1970 on the knowledge he received from his maternal grandmother.
After graduating from Colgate in 1972 with a master's degree, Minister Evans briefly served as organizer for a Geneva (NY) based organization called COMAC. He moved to his home in the South Wedge neighborhood of Rochester in the early 1970s, where he and his wife Gwendolyn (Akilah) raised their six children, as well as multiple godchildren.
An advocate for churches incorporating educational programs, he started an after school program known as Children's Fashion Hour within the Institute. He was known for going to his children's schools on a regular basis, as well as for the children in the after-school program.
A native of Ohio, Minister Evans also helped his twin brother Gerald in establishing a chapter of the Institute in Elyria, OH. He was one of the early organizers of the AAFRO Festival in Elyria, held every July on the second weekend.
Known for his financial expertise and his extensive knowledge of Black history and culture, Minister Evans was hired by Rochester Regional Health Systems as a case manager in 2002. He accepted the clients his co-workers refused, and he was able to assist his clients in getting treatment for substance abuse, housing and social services. He retired from Rochester Regional in 2011.
A frequent participant of community meetings, Minister Evans was admired for his honesty and ability to connect people with opposing views.
As we celebrate the life and legacy of a community giant, the National Office of First Community Interfaith Institute Inc. (Rochester, NY), and the chapters of the Institute in Ohio, join the family of Minister Lawrance Lee Evans Sr in mourning the Quiet Warrior-- a man who did a lot with little fanfare. RIP, Minister Lawrance Lee Evans.
For More Information, Contact Sister UWIMANA ONI AT 585.461.0379 OR
[email protected]
, First Community Interfaith Institute Inc., 219 Hamilton Street, Rochester NY 14620-1112