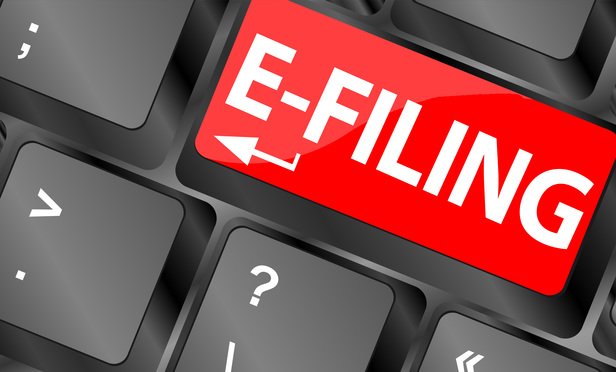 COUNTY CLERK BELLO, SUPREME COURT JUSTICES DORAN AND ROSENBAUM ANNOUNCE COMMENCEMENT OF MANDATORY ELECTRONIC FILING
Today, Monroe County Clerk Adam Bello and Supreme Court Justices Craig Doran and Matthew Rosenbaum announced the commencement of mandatory electronic filing, also known as e-file, for most civil court actions in Monroe County.
In January 2017, e-filing was made available as an option for those filing most civil court actions in the Monroe County Clerk's Office. Since then, more than 3,500 actions have been filed electronically.
Beginning today, January 24, 2018, electronic filing will be required on all new eligible filings. All e-filed documents are uploaded to the New York State Office of Court Administration's web portal (NYSCEF), where they are available to be viewed by the public.
Clerk's office staff then electronically retrieves and enters the documents into the Clerk's filing system for official filing.
"The modernization of our filing system is a win-win for the public, the judicial system, and the Clerk's office," said Monroe County Clerk Adam Bello.
"E-filing makes it quicker, easier, and less costly to do business with our office, expands public access to records, and reduces wait times in the Clerk's office for other filers who are doing business in person. I want to thank Justices Doran and Rosenbaum for their leadership in ushering this project to fruition, and to the local legal community for embracing this new technology and process."
Beginning January 24, all new civil actions will be filed electronically except CPLR Article 70 & 78 proceedings, Election Law proceedings, matrimonial matters, Mental Hygiene Law matters, consumer credit transactions defined by CPLR 105(f), and residential foreclosure actions defined by RPAPL 1304.
"Electronic filing is not only the wave of the future, but of the present, and it is vitally important for a dynamic, progressive court system to boldly embrace technological innovation. E-filing is more efficient, more cost-effective, more transparent, more secure and fully consistent with Chief Judge Janet DiFiore's mandate to achieve excellence in all court operations. We are pleased and proud to see Monroe County taking a leadership role by requiring that all new filings are submitted electronically," added Supreme Court Justices Craig Doran and Matthew Rosenbaum.
E-filing in Monroe County has been made possible by a partnership between the New York State Supreme Court's 7th Judicial District, the Monroe County Clerk's Office, and the New York State Office of Court Administration.
Numerous Continuing Legal Education (CLE) courses and training have been offered over the past year to educate system users on how to navigate the online program.
E-filed documents and additional information about the program can be found on the New York State Unified Court System website: https://iapps.courts.state.ny.us/nyscef/HomePage and on the--
Monroe County Clerk's website: https://www2.monroecounty.gov/clerk-index.php. In addition, the Hall of Justice law library has a resource center and dedicated staff to assist users.