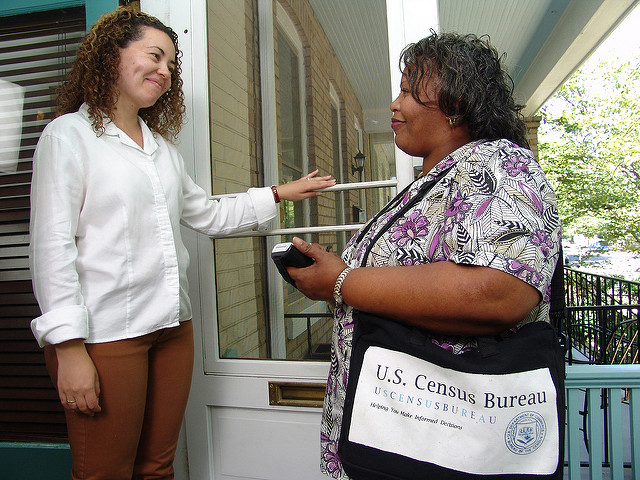 Mayor Lovely A. Warren and Monroe County Clerk Adam Bello, joined Jeff Behler Regional Director of the New York Region Census Center Tuesday to call for Rochester-area residents to apply for temporary field positions for the 2020 Census. Mayor Warren and County Clerk Bello are members of the New York State Complete Count Commission.
"With these jobs, local residents have an opportunity earn a decent wage, gain valuable work experience and help us make sure our population is accurately reflected in the 2020 Census," said Mayor Warren. "Our population determines the city of Rochester's allotment of federal resources and political capital, which helps our residents thrive and reach their full potential. It is, therefore, critical that every one of our residents is counted so that Rochester can be the city it is destined to be."
"The U.S. Census jobs now being recruited for are providing not only an economic opportunity, but also a chance to do meaningful work, ensuring that the Census captures accurate and complete information about who lives in our city and county," said County Clerk Bello. "Making sure that the Census counts every resident is crucial, as Census data is directly used to help determine where and how federal resources are deployed and also is used in decision-making by local governments and nonprofits. If you are looking for work and interested in helping to make a difference in your community, I strongly encourage you to look at local Census positions."
"While a Census is a national event, in order to be successful, it must be conducted at the local level," said Director Behler. "This starts with hiring people to work in their own communities. We look forward to working with the City of Rochester to ensure that together we provide easy and ample opportunities for local community members to apply to Census jobs."
The available jobs include recruiting assistants, office operations supervisors, clerks, census field supervisors and census takers. The jobs offer flexible work hours, including daytime, evenings and weekends.
To facilitate the on-line application process, the City's Office of Community Wealth Building will hold open office hours during the months April, May and June to make computers and internet connections available and provide technical support to job applicants.
Beginning April 4, the OCWB will hold "Workforce Wednesdays" office hours from 12:30 to 4:30 p.m. at the Business and Community Services Center, 56 N. Fitzhugh St. to assist applicants.
Additionally, the OCWB will open its classroom space at 30 N. Fitzhugh St on three dates to provide service to several applicants at a time. These times and dates are: 10 a.m. to 2 p.m. Tuesday, April 16; 10 to 2 p.m. Thursday, May 23; and 3 to 7 p.m. Tuesday, June 18.
Available jobs are:
* Recruiting assistants ($18.50 per hour) travel throughout geographic areas to visit with community-based organizations, attend promotional events and conduct other recruiting activities.
* Office operations supervisors ($17.50 per hour) assist in the management of office functions and day-to-day activities in one or more functional areas, including payroll, personnel, recruiting, field operations and support.
* Clerks ($13.50 per hour) perform various administrative and clerical tasks to support various functional areas, including payroll, personnel, recruiting, field operations and support.
* Census field supervisors ($18.50 per hour) conduct fieldwork to support and conduct on-the-job training for census takers, and/or to follow-up in situations where census takers have confronted issues such as not gaining entry to restricted areas.
* Census takers ($17.00 per hour) work in the field. Some field positions require employees to work during the day to see addresses on buildings. Other field positions require interviewing the public, so employees must be available to work when people are usually at home such as in the evening and on weekends.
To apply online or find more information, visit census.gov/jobs or call 1-855-JOB-2020.