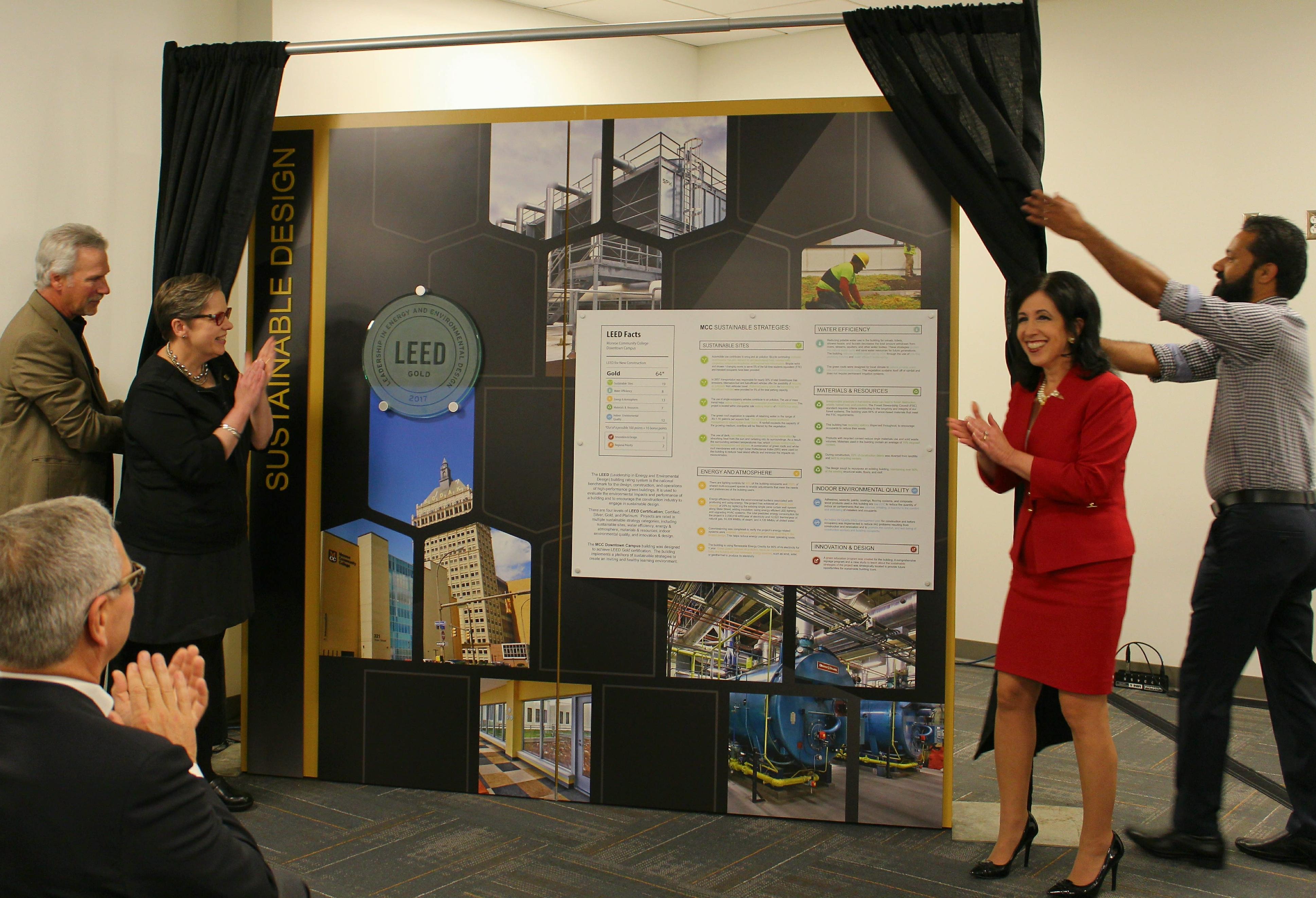 MONROE COUNTY NEWS RELEASE
Monroe County Executive Cheryl Dinolfo and Monroe Community College (MCC) President Anne M. Kress announced the new MCC Downtown Campus has earned LEED Gold Certification. This certification, awarded by the United States Green Building Council (USGBC), represents USGBC's second-highest rating and recognizes outstanding commitment to sustainability in building planning, construction and management.
"The sustainable building practices Monroe County embraced in MCC's new Downtown Campus will protect local taxpayers and our environment for years to come," said Dinolfo. "From its state-of-the-art green roof to energy saving features, our beautiful new facility certainly earned LEED Gold Certification by projecting to save taxpayers nearly $120,000 per year. My thanks to Dr. Kress and our project partners for helping to make this gold-winning campus a reality."
"MCC's Downtown Campus reflects the College's long-held commitment to sustainability. This is evident in everything from the learning environment to the curriculum to the daily operation of our campuses," said MCC President Anne M. Kress. "As part of the High Falls EcoDistrict, we embrace our responsibility to do what is best for the environment and our community and to empower our students to be agents of change."
To receive a LEED Gold rating, a project must earn sixty points from the USGBC and provide the relevant documentation. MCC's new Downtown Campus earned 64 points for a wide array of sustainability features, including its innovative green roof, double-pane "wall of windows" along State Street and responsible construction material use. Eighty percent of all construction waste was diverted from landfills and fifteen percent of the materials purchased for the project were manufactured using recycled materials.
Furthermore, the project will be twenty-three percent more energy efficient than required by code, generating a projected annual savings of $117,000 in energy costs. The MCC Downtown Campus is the latest in a long string of County projects built to meet LEED standards and represents a concerted effort on behalf of the County and MCC to build a sustainable campus.
The total project cost for MCC's new Downtown Campus is $78 million, primarily shared by Monroe County ($36 million) and the State University of New York ($39 million). To meet LEED standards, an estimated $680,000 was added to the overall project cost, with a return on investment estimated at less than 7 years based on annualized energy savings.
Project contractors The DiMarco Group and LaBella Associates played a significant role in earning the LEED Gold rating. Additional grant funding was also provided by the New York State Environmental Facilities Corporation and the New York State Energy Research and Development Authority (NYSERDA).
The United States Green Building Council's LEED program (Leadership in Energy & Environmental Design) is a globally-recognized symbol of excellence in green building. LEED certification ensures cost savings, sustainable practices, and healthy environments for the places we live, work, learn, and play. For more information, please visit new.usgbc.org/leed.