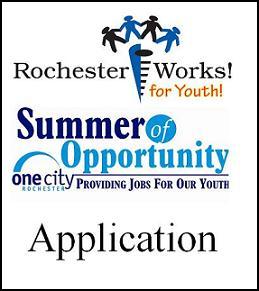 Mayor Lovely Warren and the City of Rochester, RochesterWorks! and Monroe County invite youth between the ages of 14 and 20 to apply for the City's Summer of Opportunity Program (SOOP) and RochesterWorks! Summer Youth Employment Program (SYEP).
Both programs provide career exploration and paid employment opportunities for youth who are currently enrolled in middle school, high school, or actively pursuing their High School Equivalency diploma. Youth who participate in SOOP/SYEP learn skills that will help them be successful in school and in the workplace
"Real world experience is key to a rewarding career," said Mayor Warren. "The Summer of Opportunity and Summer Youth Employment Programs provide young job seekers with skills needed to be successful in a competitive job market. Maintaining a strong workforce is key to our efforts of creating more jobs, safer, more vibrant neighborhoods and better educational opportunities for our citizens."
Interested youth may apply online for both programs at www.summeryouthemployment.org until March 23 at 5 p.m. The application signature page must be printed and signed by a parent and school counselor. In addition to the online form, applicants must also submit copies of their Social Security card, worker's permit, a recent report card and a photo ID.
These supporting documents may be turned in from 2 to 6:30 p.m. on Mondays, Tuesdays, Thursdays and Fridays at the City's Bureau of Recreation Administration Office, 400 Dewey Ave., from March 12 through March 16. From March 19 through March 29, supporting documents will be accepted at the Edgerton R-Center, 41 Backus St., during the same hours and days.
Following completion of the application process, applicants may be invited to interview for summer jobs. Selection for this program is competitive and not every applicant is guaranteed a job.
Participants will receive training as part of their summer employment. Past participating employers have included: the City of Rochester, community based organizations, colleges and local businesses.
For more information, call the City Department of Recreation and Youth Services at 428-6366.