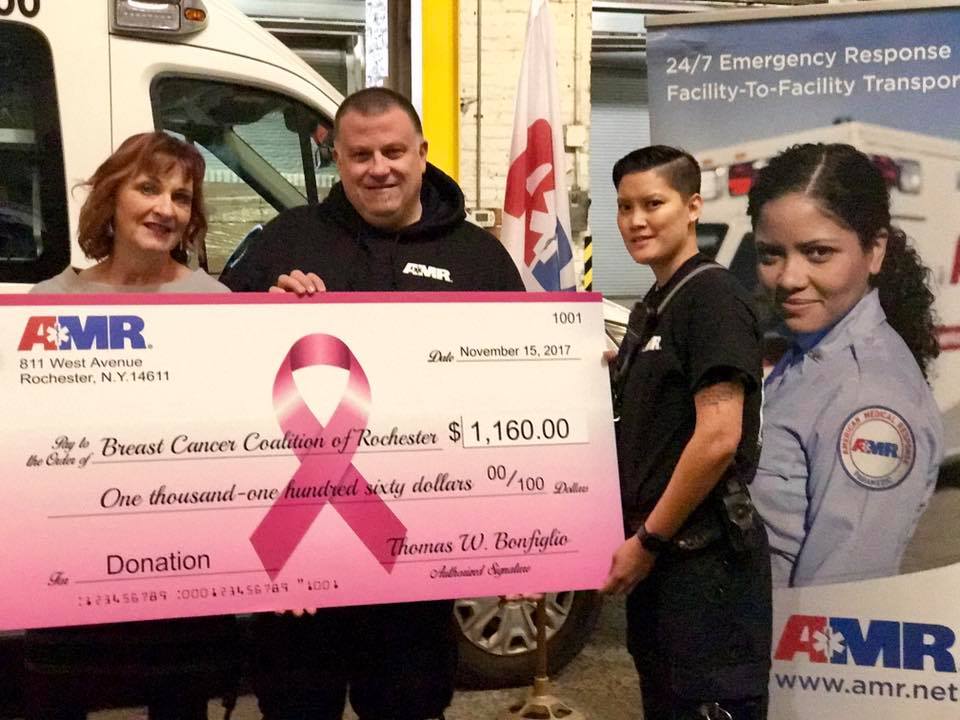 It began 4 years ago when Sr. Operations Crew Chief, Troy McLymond took on the role of coordinating the fundraising efforts for Breast Cancer Awareness Month.
Rural/Metro, American Medical Response's (AMR) predecessor gave the go ahead for EMT's and paramedic to swap out their uniform for company approved pink apparel in support of breast cancer awareness month. During the month of October, AMR raised funds to support the local non-profit Breast Cancer Coalition of Rochester (BCCR).
"When I took over this project after the previous coordinator took a different career path, I never thought it would we would be raising this much money. We are happy to partner with the local business, Match Play Custom Apparel, who prints the clothing," said Troy McLymond. "I would like to thank our own Kuo Downing-Reese, Paramedic who had the idea for this year's design and thank you to everyone who donated by purchasing clothing."
What began as a uniform change morphed into a fundraiser because anyone who wanted to wear the pink apparel was required to purchase it know that all profits would go to the efforts against breast cancer. AMR providers would have the choice of a t-shirt long or short sleeve and a hoodie and each year the design is different.
"The Breast Cancer Coalition has been providing community-based, independent, and grassroots education, support, advocacy for nearly twenty years. We offer extensive free programming and services as well as a competitive regional research grant award," said Lori Meath, Outreach Coordinator for BCCR.
"We believe strongly that funds raised in our community should STAY in our community! We rely on the generous support of groups within our community- such as American Medical Resources (AMR)- to continue this valuable work in the Rochester area."
About Breast Cancer Coalition of Rochester Mission is to provide support to those touched by a diagnosis of breast cancer, to make access to information and care a priority through education and advocacy, and to empower women and men to participate fully in decisions relating to breast cancer.
About American Medical Response American Medical Response, Inc., America's leading provider of medical transportation, provides services in 40 states and the District of Columbia. More than 25,000 AMR paramedics, EMTs, RNs and other professionals work together to transport more than 4.4 million patients nationwide each year in critical, emergency and non-emergency situations.
AMR, a subsidiary of Envision Healthcare Corporation, is headquartered in Greenwood Village, Colorado. For more information about AMR, visit www.amr.net and follow @AMR_Social on Twitter.