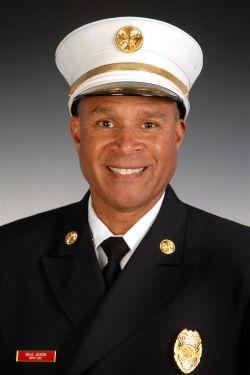 Chief Willie Jackson is a graduate of the International Association of Fire Chiefs, Chief Officer Development Program, and the National Fire Academy.
In his twenty-three years with the department, he has worked in divisions including Operations, Community Outreach, Recruitment and as Deputy Chief, he superintended the Department's training.
Jackson began his tenure as Chief in January 2019, fifty-five years after his father Willie Jackson Sr., broke the Department's color barrier in March of 1964.
"For my dad to break the color barrier and his son is now Chief, humbles me. So, I going to make sure I do my best," he says.
After graduating, Jackson's acceptance to Bucknell University to become an engineer technologist was cut short after he wasn't able to pay tuition at the beginning of his junior year and was compelled to find a full-time job, in order to save enough money to return to school.
While job searching, he decided to take the firefighter exam, but he wasn't sure he wanted to become a firefighter and ended up accepting a position as a purchasing agent for a corporation that lasted fourteen years, before the company decided to downsize.
At the age of 32, he decided to retake the firefighter exam. The background check took four years. When he finally got the call, he was in the process of flying out west to Las Vegas to interview for a job as a purchasing agent for MGM Grand, but decided to give a career in emergency services a shot.
"After completing training exercises at the academy, I fell in love and realized becoming a firefighter was the career I wanted to focus on," Jackson points out. "It was at that point I knew I made the right decision because I felt and believe to this day that a career as a firefighter was the greatest thing I could do. I realized, I could go to work every day and do something good for my community by helping others and that's what I really enjoying doing."
"As Chief, he continues. "The one thing I really want to focus on, is to give minorities the opportunity to understand what this career is about. My goal is to diversify this department as much as I can until I retire."
Jackson credits the vision he has for the department to his mentor, Former RFD Chief John Schreiber, whom he replaced.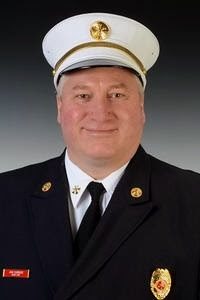 Former RFD Chief John Schreiber
"It was inspiring watching John promote diversity measures like it was no tomorrow," Jackson says. "The priorities in his career as Chief has inspired me to make those priorities in my career as Chief. In addition, Schreiber made sure I attended classes and summits where people spoke about diversity and what it meant to fire services and the future of fire services. And it's not just in Rochester, on a national level they're promoting diversity. My truth is, if it wasn't for John, I wouldn't be the fire chief right now. He made sure I had the necessary professional background and community experiences to become Chief."
The Rochester Fire Department has over 500 diverse uniformed and non-uniformed members. Eighteen fire companies are located in 15 different neighborhood fire stations geared to respond to numerous emergency situations, such as, vehicle extrication, medical emergencies, high-level rescue, hazardous materials incidents, structural collapse, swift water rescue, and many more emergency operations.
There was only one minority officer, when Jackson was promoted to lieutenant in 2002. Today, there's 13 minority officers and several candidates who Jackson expects to be promoted in the coming months.
"When we're out recruiting, we don't want to discriminate against any race, but we're targeting the immediate community," Jackson implies. "We want people who come from this community to help support it and help make it better. That's important to me and that was important to Chief Schreiber and it's important for the department in many different ways. Some people don't understand diversity and what it truly means but it's time to move on from the word 'diversity' to 'inclusion' to make sure that everyone is included in the process. We are not just trying to get people in the door. We need people who understands the communities we serve, knowing that our job most of the time requires us to go into people homes and businesses, so we need people from all walks of life."
"For this community, diversity is important and the only way we can inspire our youth that they can do this job is for them to see minority people in positions like fire chief, deputy chief and battalion chief, captain and lieutenant and we are starting to get there," he continues. "It's extremely important for young people residing in the city to view Rochester's Fire Department as a career opportunity for themselves, their children and potentially other members of their families."
Jackson also encourages students to take advantage of The Career Pathways to Public Safety Program, a partnership between the Rochester City School District and the City of Rochester to increase minority representation and local residency in its uniformed divisions while increasing the awareness of career opportunities within the public safety field.
"A lot of young kids say, I want to be a firefighter when I grow-up because they see it on TV or in the movies but The Career Pathways to Public Safety Program actually gives them an opportunity to learn what firefighters are all about, what they actually do and how you can pursue that career," Jackson points out. "It's a stepping stone to becoming a firefighter. And if you start this career at the age of 17 or 18, at the age of 40, you're old enough to retire if you wanted to. The program gives people an opportunity to be successful, he implies. "And we are here to serve you and the community as a whole. We are a part of the Rochester Family and as Chief my job is to make sure, you view us as a part of your family also." ______________________________________________________________________________________________________________________________________________________
EXTRA: More about Jackson's Father Breaking RFD Color Barrier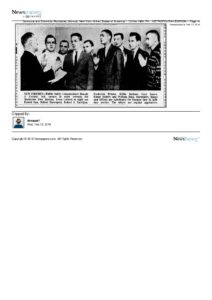 Willie Jackson Sr. being sworn in by Public Safety Commissioner Donald J. Corbet, March 13, 1964, photo furnished by Chief Jackson
My father in 1964 took the firefighter exam right before the eruption of the 1964 riot. He posted one of the best scores in the department's history and the highest among his cohort.
When the riot ended, the department began efforts to hire a group of firefighters to fill maybe ten positions, so my father was called, and he accepted. When the Democrat & Chronicle Newspaper published an article about the score my Dad posted on the exam, every company in the Rochester area was knocking on our door trying to get in touch with my him to see if they could hire him.
These were companies that included Kodak, Xerox and Bausch and Lomb, whose workers were predominantly Caucasian and needed to hire minorities after the riot ended to ease racial tensions in the city. Some of the companies wanted to know, if my father wanted to get into computers and a number of other fast-moving technological fields.
My father had five kids and a wife to feed, so he had second thoughts about taking the firefighter job, because the department didn't pay well at the time, so he calls up the fire department and told them, he was not going to accept the position.
His refusal prompted a visit to our apartment from Rochester's Former Mayor Frank Lamb, who pleaded it was important to people of color and the city to break the Department's color barrier, so my father went along but informed the Mayor that after he's sworn in, he's not sure he's going to stay.
Once sworn-in, approximately two weeks after he started training, my father decided he needed to make more money, so he left the fire department and accepted a position at Eastman Kodak, where he became a computer analyst for 18 years, before leaving in 1982 to start his own computer business.
Later on, I found out my mother's father was also a firefighter in the United States Navy, something he never told me until I began to pursue the career.
So, I guess the old saying is correct, "The apple doesn't fall to far from the tree."
*Note:
Willie Jackson Sr. broke the Department's color barrier.
*Martin Coker Sr., is the first person of color to complete training and begin working in the field. Coker is honored by the Annual Black Men Achievement Awards (BMA) Committee with a category honoring his name.