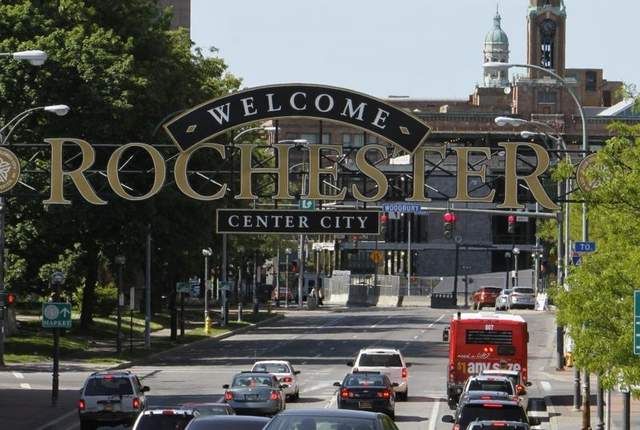 Mayor Warren Says Community Schools, Neighborhood Partnerships Offer "Beacons of Hope" on Path to Equality
The partnership between Enrico Fermi School No. 17 and the JOSANA Neighborhood, born from the tragic death of a 10-year-old boy, now serves as a proven model that can produce genuine equality through economic and social equality across all of Rochester, Mayor Lovely A. Warren said in her 2019 State of the City Address today.
"Their success is an inspiration, not just for our schools, but for all of Rochester," Mayor Warren said. "School 17 and JOSANA are beacons of hope, showing us that we can come together and overcome any challenge we face."
Mayor Warren delivered the address at School 17 to highlight the positive outcomes taking place at the school. The address followed a self-guided walking tour of the school, in which visitors could visit with more than a half dozen community partners who provide wrap-around services to support the students and residents of the JOSANA Neighborhood.
Community schools offer an integrated focus on academics, health and social services, youth and community development and community engagement to improved student learning, stronger families and healthier communities.
Mayor Warren shared the story the 2001 shooting death of 10-year-old Tyshaun Cauldwell, who was a rising 4th grader at School 17.
The death prompted community outrage that led to the creation of the Jay Orchard Street Neighborhood Association (JOSANA) and facilitated the adoption of School 17's community schools model. Mayor Warren proposed that the Campbell Street R-Center be renamed the Tyshaun Cauldwell R-Center for Hope.
"Tyshaun's death, and the hope he inspired, was not in vain," Mayor Warren said. "He gave a gift from his very soul that our community will never forget." Under the leadership of Principal Caterina Leone-Mannino, working with parents and a host of partners, School 17 has seen improvements in academic performance and student behavior. The school is scheduled to be removed from the State receivership list on July 1.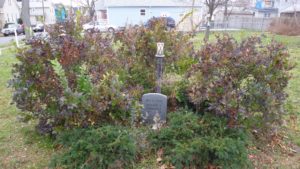 Tyshaun's Memorial on the corner of Kondolf and Whitney Streets, Rochester, NY photo by Larry Dickens
Meanwhile, JOSANA has adopted a neighborhood Master Plan with School 17 and Charles Settlement House playing a central role. Under the plan, almost 200 new homes are being built in JOSANA. Crime in the neighborhood is down, household incomes have risen, and the poverty rate has declined. Mayor Warren cautioned that much work remains to be done at School 17 and JOSANA. "But the success we've seen here tells us that the community schools' model is working."
Following on the message of her second inauguration address, Mayor Warren said she remains committed to delivering genuine equality through economic and social equality to all of Rochester's residents.
"I understand that it is a difficult task, and that the mission of equality seems insurmountable when we have to overcome entrenched poverty, institutional racism, misogyny, bigotry and hate," Mayor Warren said. "But it can be accomplished. We've seen it done before."
Building on a theme provided by School 17's moniker as a "community beacon school," Mayor Warren described her Administration's accomplishments and goals as beacons of hope in their own right. "We are working hard to make hope shine brightly so that everyone has a beacon to follow in our pursuit of genuine equality through more jobs, safer/more vibrant neighborhoods and better educational opportunities," Mayor Warren said.
She noted that Rochester's annual unemployment rate is at its lowest point in 10 years, crime is at its lowest point in 34 years and neighborhoods across the city are witnessing renewed levels of private- and public-sector investment. She praised the vision of Gov. Andrew Cuomo for his continued support of the ROC the Riverway project and announced that the draft of the "Rochester 2034" comprehensive plan will soon be unveiled for public review.
Mayor Warren announced the Bulls Head Area as the proposed location for the Rochester Police Department's Southwest Section office, which means all five police sections would have neighborhood-based locations in various stages of development or completion. She also noted that the La Marketa project on North Clinton Avenue will go out to bid for construction this summer, marking the first sign of tangible progress on a project that has been promised to Rochester's Latino community for three decades.
After laying out a vision of hope, Mayor Warren ended her address with a warning that the success of the entire city is tied to the success of its school system. She expressed disappointment that the City School District is not investing enough in Community Schools, despite the proven success of the model. She implored State Education Commissioner, the State Legislature – and the community – to look closely at the model and play a more active role in ensuring that all of Rochester's children get the education they deserve.
"Join me Rochester. Join me in the fight for our children. Join me in the fight for our future. Join me in the fight for justice and the fight for their right now!" she said.
For more information, contact press Officer Jessica Alaimo at 428-7135.