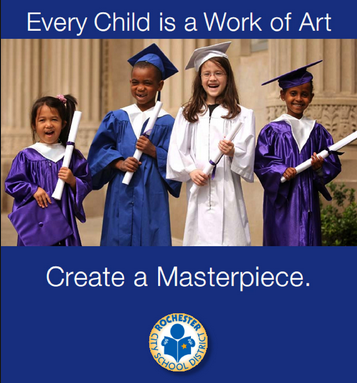 Nathaniel Rochester School No. 3, Roberto Clemente School No. 8, Dr. Martin Luther King Jr. School No. 9, Enrico Fermi School No. 17, Mary McLeod Bethune School No. 45, James Monroe High School and Northeast High School were all determined to have made demonstrable improvement and will focus on continuing improvements.
Kodak Park School No. 41 did not make demonstrable improvement and the School District has 60 days to choose one of two options. The District may appoint an Independent Receiver subject to the approval of the Commissioner. Once approved, the Independent Receiver will assume full managerial and operational authority over the school, and develop and implement a school intervention plan. The District may also choose to close the school and seek permission from the Commissioner to replace the closed school with a newly registered school.
"We will support our students, parents, community partners and our staff at school 41 and appreciate their deep commitment to children and the incredible work they have done together over the past two years", said Rochester City School District Superintendent Barbara Deane-Williams. "Our goal is to ensure that our students have access to high quality and invitational schools, that support each child's achievement and graduation in partnership with parents and community agencies. We will explore the best options we have for serving our children and families. We are committed to turning around RCSD schools and confident in our resolve to build strong community schools with high quality curriculum, instruction, social emotional learning supports and vital parent and community engagement."
"While there is more work ahead", said Dr. Elizabeth Mascitti-Miller, RCSD Chief of Superintendent's Receivership Schools, "I am proud of the commitment of our students, parents, staff and community partners at all of our Receivership schools including School No. 41. We are committed to turning around our schools using best practices, including turning all receivership schools into community schools."
"We must view this as an opportunity to set a new path, and to design schools that ensure equitable outcomes for all students", said Dr. Linus Guillory, RCSD Deputy Superintendent of Teaching and Learning.
"The news of the Commissioner's determination regarding School No. 41 is disappointing. However, the Rochester City School District is currently in the midst of developing a Path Forward which presents us with an opportunity to plan next steps", said Lawrence "Bo" Wright, RCSD Deputy Superintendent of Administration. "The Path Forward is a process for long-range planning and redesign of our schools to better support our students. We are considering all available options as part of this process."
The Superintendent and the Board of Education will work together to determine the best option for School No. 41. Should an Independent Receiver be ultimately appointed, we will work diligently to support his or her plans for School No. 41.