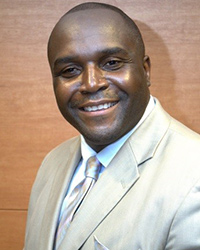 In the month of May in 2012, The College of Brockport and State University of New York announced that it has selected Roosevelt Mareus as Dean/Executive Director of the Rochester Educational Opportunity Center (REOC), after conducting its national search.
The headline on the press release read: Long-time REOC employee emerges as 'best fit'
For Mareus, 'best fit' embodies his educational journey to become REOC's next leader. In point, 'his journey' has a lot in common with the students he has been selected to lead.
Like his students, he too was a 'late bloomer' in pursue of a satisfying career.
Mareus, a two-time college dropout was born in Haiti and raised by his grandmother, after his parents made the hard decision to move to America for a better life.
At the age of 13, he rejoined his parents in Brooklyn, NY, he recalls.
"After graduating high school, I had a cousin attending the University of Rochester that thought, it was a good idea to visit to see if I would like to make Rochester my new home. After a few months, I decided to return to Brooklyn and enroll at Fulton Montgomery Community College in Johnston, NY, and dropped-out after only a few months," he continues. "I was not ready to buckle down and concentrate on obtaining my goals. It was my first time away and I was enjoying life, so I went back to Brooklyn and later enrolled at Farmingdale State College (SUNY), an institution closer to home."
Dropping-out Farmingdale after 18-months and with no other plans in mind, he recalls. Members of his family, coming together to employ a concerted effort to convince him to try Rochester again.
"When I returned to Rochester in 1997, I came with a purpose, I was more mature," Mareus imply. "I went through my trials and tribulations of life that comes with being a young man. I was no longer an 18- or 19-years old teenager, I was 26 and ready for a change. So, I settled-in working a factory job I didn't like but I had a job. I worked there 18-months before I was told that REOC were looking to hire security guards," he points out. "I worked as a security guard in Brooklyn and it was an occupational duty I enjoyed performing."
Mareus is eventually hired and began working at REOC as a security guard from 1999 to 2007.
"Working as a security guard, I was seeing so many successful people of color. And I would ask, how they did it? And they all said college. And I said, oh-----man, no way! Not college again! He chuckles.
So, in 2001, he enrolled at the College of Brockport and in 2004, graduated with a bachelor's in Business Administration.
For three years, he didn't do anything with his degree, until Mrs. Reese a former REOC admission advisor approach him and says,
["Young man, how can you have a degree for three years and you're not putting it for good use? And, they're a lot of open positions at REOC, why don't you apply for them?"]
"I didn't apply because I was happy being a security guard," Mareus recalls."Then, she threatens to call my parents."
So, when Reese retired in 2007, he applied for her position and was selected.
"So first and foremost," Mareus says."The position requires a bachelor's degree and if I hadn't return to school, I couldn't even apply.
Southwest Tribune: Why the sudden change?
"Life experiences, he points out. And when you know better, you do better. And while working here, building relations with the students, faculty and staff allowed me to develop a better understanding of REOC's mission that also helped me to make the decision that I wanted to do more. And for me, the best way to do more was by becoming an admission advisor."
So, from 2007, Mareus worked three jobs including as an admission advisor, an evening coordinator and as a security guard instructor on Saturdays that required working one job full-time, one part-time and as an adjunct.
He was a fixture in those various positions until REOC's Former Dean and Executive Director Dr. Melva Brown in 2010 extended to him an opportunity to work as her assistant.
Months into the job Dr. Brown acknowledge, she's planning to retire and decides to promote Mareus to interim director, and suggested he apply for the job as permanent dean and executive director when the national search for a new director is implemented.
"I've been executive director since 2011," Mareus says. "I'm fortunate to be in this position. Every year we transform lives at REOC. We enroll an estimated average of 1,300 students annually. We do great work here! We have over 19 programs and when people come here and leave, they leave with no debt and a career," he points out.
This year more than 60 people earned High School Equivalent (HSE) diplomas.
"So now those 60 people can come back to REOC for a vocational program or go to college or keep their job because their job requires one," Mareus notes."At this point we have up to 600 people who have completed vocational programs. By the year's end, we project to have up to 800."
Southwest Tribune: Why is REOC a good choice to fulfill your education or pursue educational training towards a vocational career?
Mareus:
REOC is one of the best programs in Rochester because not only we care about the academics but also about the person. We take the holistic approach.We know it's important for them to be trained in the programs, but the life and social skills are very important here. We go above and beyond. I always tell my students; education will take you places but it's your character that will keep you there. Coming from Haiti, I value an education and being a hard worker and I try to instill that in my students.
For example, when a student enrolls in REOC, the first thing we try to find out is some of the barriers they have to address because if you don't address some of the barriers, a lot of time they're not going to be successful. If the program they're enrolled in last up to 6 or 7 hours a day and they don't have any daycare, it will be a major barrier for them.
Southwest Tribune: What do you want to improve as Dean and Executive Director?
Mareus:
For us not to remain complacent. We always have to think outside the box. We always have to scan the community to see what the needs are. We also understand, we can't address all the needs of the community but whatever we can do, we will.
For example, we met with the city of Rochester and discovered the need for 911 operators, so we are partnering with them and we are going to offer that program here at REOC. And we also discovered that a lot of jobs pertaining to Civil Service are not being filled by people of color, so now at REOC, we're going to have a program called 'Civil Service Prep' to prepare people, so they can have the same opportunity.
So, we're trying to level the playing field. Programs that we don't offer, if we have to refer our students elsewhere, we do that but if we can do it in-house, we will. So, I'm excited about these two programs beginning in September.
Southwest Tribune: Why is it never too late to pursue your dream; especially at REOC?
Mareus:
At REOC, we have people who are seventeen years-old and older. I had a lady in her late fifties who was here last year and six months later, she passed the HSE exam and now she wants to enroll in the LPN Program. We have people in their 70's enrolling in our programs.
It's up to you, once you make the decision to enroll, we will help you. We will do our part, but you also have to do your part. So, it's never too late. When I was younger, I went to college and I didn't make it. I went back later to earn my BS degree in Business Administration from the College of Brockport and MS degree in Strategic Leadership from Robert Wesleyan College. So, what's clear about, what I love about REOC is that, we believe in second and third opportunities.