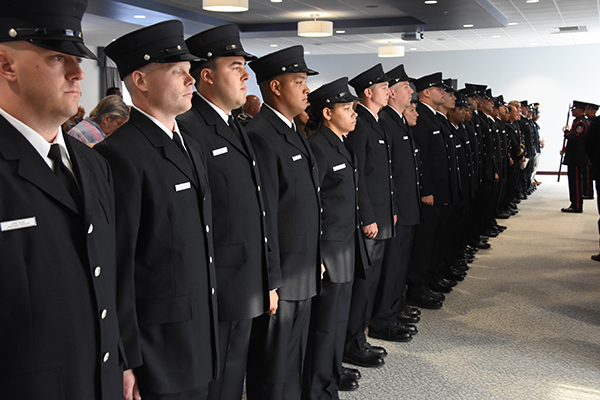 BY LEAH SHAW
A day in the life of Alissa Turner means no shortcuts or exceptions.
Since becoming, the first African-American woman firefighter to come through the Rochester Fire Dept. Academy in July, Turner is now at Engine 10 and welcomes the opportunity to be a valuable firefighter, regardless of race or gender.
"I don't think about it much," she said. "I just want to be a good firefighter."
Turner grew up in the 19th Ward, on Rugby Ave., and after attending Joseph C. Wilson Foundation Academy and Wilson Magnet High School, joined the Army. She was then deployed to Afghanistan in 2012.
Shortly after returning to Rochester in 2013, her grandmother became ill and someone called 911. It was the firefighters, who stepped in to help her grandmother that day, that made an impression on Turner.
She graduated, from the Rochester Fire Dept. Academy on Friday July 21st, and on Mon. July 24th, went straight to work at Engine 10.
She credits the work ethic, she witnessed in her parents for her drive and says her military experience enhanced that work ethic. Her father was a member of Jamaica's military.
"There shouldn't be any shortcuts or any exceptions—there's always different ways to get the same job done, you just have to work for it."
Turner admits, she does get attention within the community for being a woman firefighter. She calls the experience "interesting" and mostly wants to show girls that there are many career options.
"I just want them to see, if they work hard and have a good work ethic, they can do it too," she said. "I want them to see and believe that nothing is closed off to them."
Turner admits, the work she does is hard, but says, being a member of the fire department is all about supporting each other's successes.
"RFD helped with that as well, it enhanced that work ethic," she said. "With the fire department, you learn that you can get things done alone, but you can get them done smarter and faster with your team."
"The RFD is predominantly team based," Dana Cieslinski, Rochester Fire Dept. Public Information Officer and Training Coordinator said. "Just like in playing a sport, you're only as strong as your weakest link. Each person's individual efforts contribute to the team's success."
Turner is one of 15 female firefighters in the Rochester Fire Department. There are about 480 Rochester firefighters total. Nationally, women firefighters make up 7 percent of over 1.1 million firefighters.