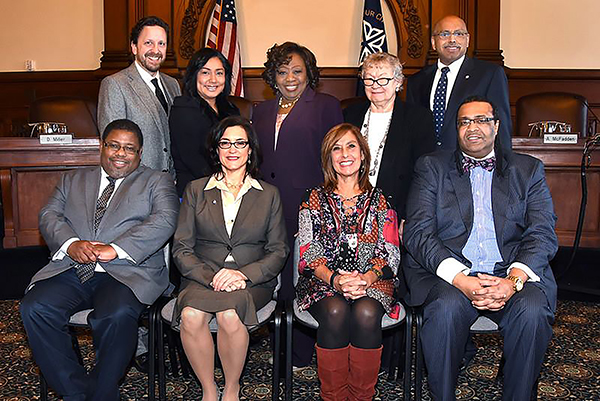 BY TIANNA MANON
Loretta Scott is excited about the city's future.
The president of Rochester City Council was eager to speak about finished and on-going projects by pointing to many developments happening throughout the city, as signs of progress.
"I'm also working with other council members on big ticket items that will shape the city for decades to come," Scott said. "It really is exciting," adding she thinks Rochester is on the cusp of great progress.
During a recent press conference at Tower 280, Scott singled out a recently built high-rise loft building on East Broad Street and its modern design that's being touted, as the future of downtown living.
Then known as Midtown Plaza, Tower 280 historical significance dates to 1962, as the first indoor mall in the United States. It's renovation efforts has been deemed, as 'Midtown Rising' by the city of Rochester.
Midtown Rising is projected to shape the rebirth of downtown's core through public and private investment, job creation and infrastructure development.
And the goal is to attract a mass number of residents and twenty-four hours amenities that contributes to a vibrant live-work environment.
Once completed, the site will accommodate approximately one million square feet of office, residential, hotel and retail space.
"We also need healthy and vibrant neighborhoods," Scott adds. "The council is working closely with our mayor on major renovations and new developments happening in our neighborhoods like the revitalization of Bull's Head Plaza."
Adding to that list? Major moves like changes to the subway and of course Parcel 5, a lot on East Main that has been the subject of much discussion.
Scott suggest, we should revamp downtown parks rather than create a new one at Parcel 5. She said, she supports the performance arts venue backed by Tom Golisano. And spaces like Aqueduct Park could serve those needs instead.
The proposed project will include an estimated 3,000-seat performing arts center and approximately 150 rental units (mixed affordable housing), in conjunction with retail shops and restaurants at street level.
However Scott clarified, there is no official proposal for the space. And that decision could come as late as fall but it does present groups with competing interests time to present their own.
Public Safety
Although the city's violent crime rate is at its lowest in 30 years Scott states, there's still room to improve in that area and other areas like the relationship between the community and the officers that patrol their neighborhoods.
The addition of body cameras and discussions on how to improve the city's Civilian Review Board? Are recent steps taken by city council to ensure accountability, on both sides. If you have an issue you want to address before the Council, sign up for--the "Speak to Council" session that allows citizens to address Council on any issue. The session starts at 6:30 pm, on Tuesday evenings. Citizens can call in and sign-up to speak, until 5:30 pm, on the day of the Council meeting.