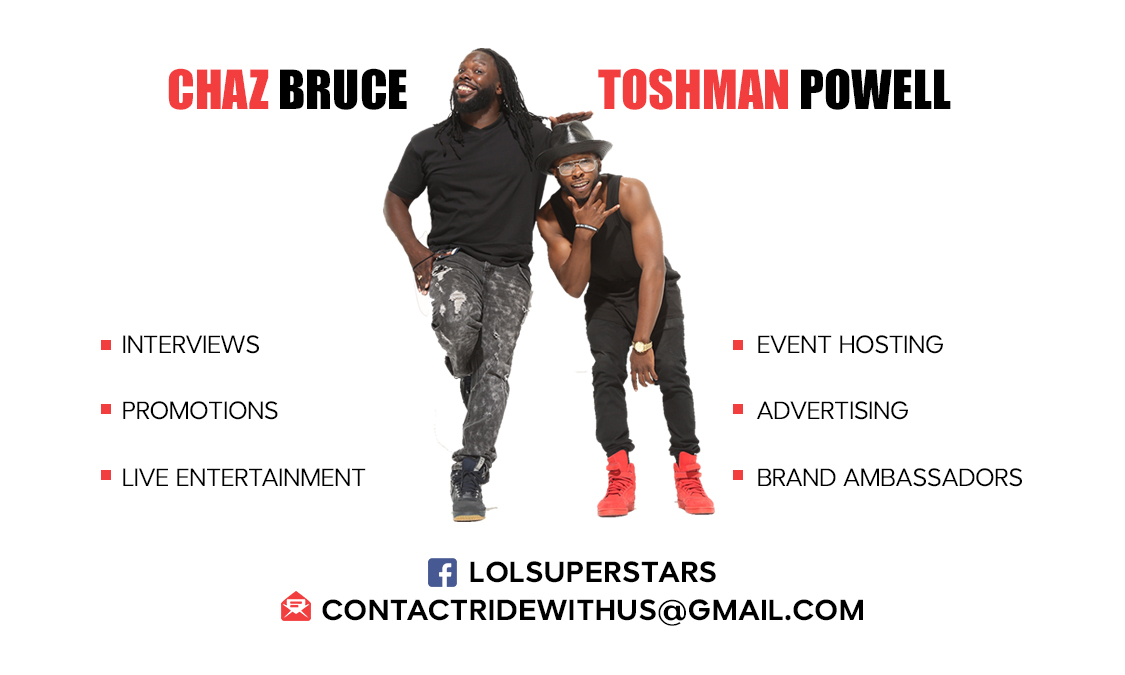 SOUTHWEST TRIBUNE
cover photo (front and centered) Chaz (bending) Dash
The dynamic combination of Rochester's comedy duo, Chaz Bruce and Toshman Powell #(hashtag)- Chaz and Dash, commonly known as the LOL Superstars, brought down the house at the recent Black Men Achieve Awards (BMA)in Rochester, NY.
The duo's 12 years on stage together has matured into an uncanny ability to produce unscripted gut-busting improvisational (Improv) skits, nights in and nights out.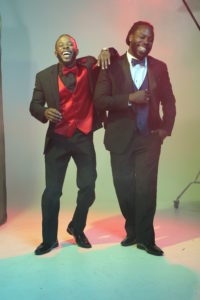 "We didn't script or rehearse any of our performance for the BMA Awards," Chaz said. "We've been on stage together for more than a decade. We know each other and each other's comedic timing and most of the time, I know where he's going with his jokes. So, I have the luxury to meet him there and have some fun in between."
I asked Dash, if you guys don't do the writing than who does? His response: GOD
"We really don't know what we're going to say or what we're going to do," Dash said. "Everything happens naturally. And it's the best energy you could receive, because it's impossible to exactly recreate a natural act," he explains. "Acting a certain way, you can do a million times. In honesty, we feel trying to write what we do would make it corny. It's fascinating when you can't guess what's going to happen next."
What started as a group of 15 to 20 comedians putting on weekly shows down at the Venue, allowed the duo to individually develop and work on the many variations of their craft. At that time, the shows consisted of sketches, improvs and stand-up comedy.
"It was like the 1990's hit TV show "In Living Color" mixed with Def Comedy Jam and Nick Cannon's show, Wild 'N Out," Chaz said.
Within the hustle and bustle of aspiring comedians, they realized, they had an undeniable chemistry on stage, when they were paired together.
That Eureka Moment transpired into creating LOL Superstars. And for the last 12 years, the duo has been hosting concerts and special events, alongside their popular web show "Ride with Us,' and comedy club performances.
After coming up with the popular social media web show featuring Chaz and Dash buckling their seatbelts and picking up passengers to drop them off at their destination.
While riding, passengers play interactive games, rate various products and services and make random stops at local businesses and popular events for on-the-spot comedy interactions with the two entertainers.
The online show has gotten so popular, the duo has begun to perform "Ride with Us,' at their live monthly comedy shows throughout the City and the Greater Rochester region.
"The live show features videos that has been released and some unreleased footage," Dash said. "Also, we invite on stage many of our interesting guests to participate in 'on the spot' Improv interviews."
However, we must note, when it comes to the duo's talents, the apple didn't fall to far from the tree. The duo comes from a line of singers, produces and musicians.
Chaz's dad, is singer, producer, writer and musician Michael Bruce and Dash's uncles- 'The Powell Singers' are both referred to as local powerhouses in Rochester's music scene.
"When Chaz and I were running around as kids playing in the yard, my uncles and Chaz's dad would be held up for countless hours in my grandpop's basement practicing and making music," Dash said. "At that time, we didn't foresee, we would connect on this level, when we became adults."
Both Chaz and Dash are very inclined not only in comedy productions, but they're also musicians, writers of music and choreographers of dance. Both comedians teach creative art and creative writing as educators in the Rochester City School District (RCSD).
"Our goal is not only about the stage or becoming big comedy stars," Dash said. "We believe, if you can laugh you can relate. So, what else can you relate too, because our act on stage also comes with the willingness to get involved at the grassroots level in our communities and spark informative discussions, conduct educational workshops and provide mentorship," he points out. "We have a bigger vision than just trying to get some trophies on the wall."
I proposed to Chaz that you both are multi-talented, why choose comedy; specifically, Improv as the umbrella that everything else falls under?
"A lot of people fear Improv that's why we do those workshops as well," Chaz noted. "The thing you learn from doing Improv, in many ways plays a part in your life. You are using so many different parts of the brain at the same time and don't even realize it because you're having fun. The magic of creativity comes to the fore-front," he points out. "It's problem solving in real-time, without feeling afraid to mess up. In Improv, it's like failing with a smile on your face. So, it's okay to fail big, because that's where you learn."
To book LOL Superstars to host your next concert or special event or comedy special email
[email protected]
or Facebook LOL Superstars or call 585.315.6618